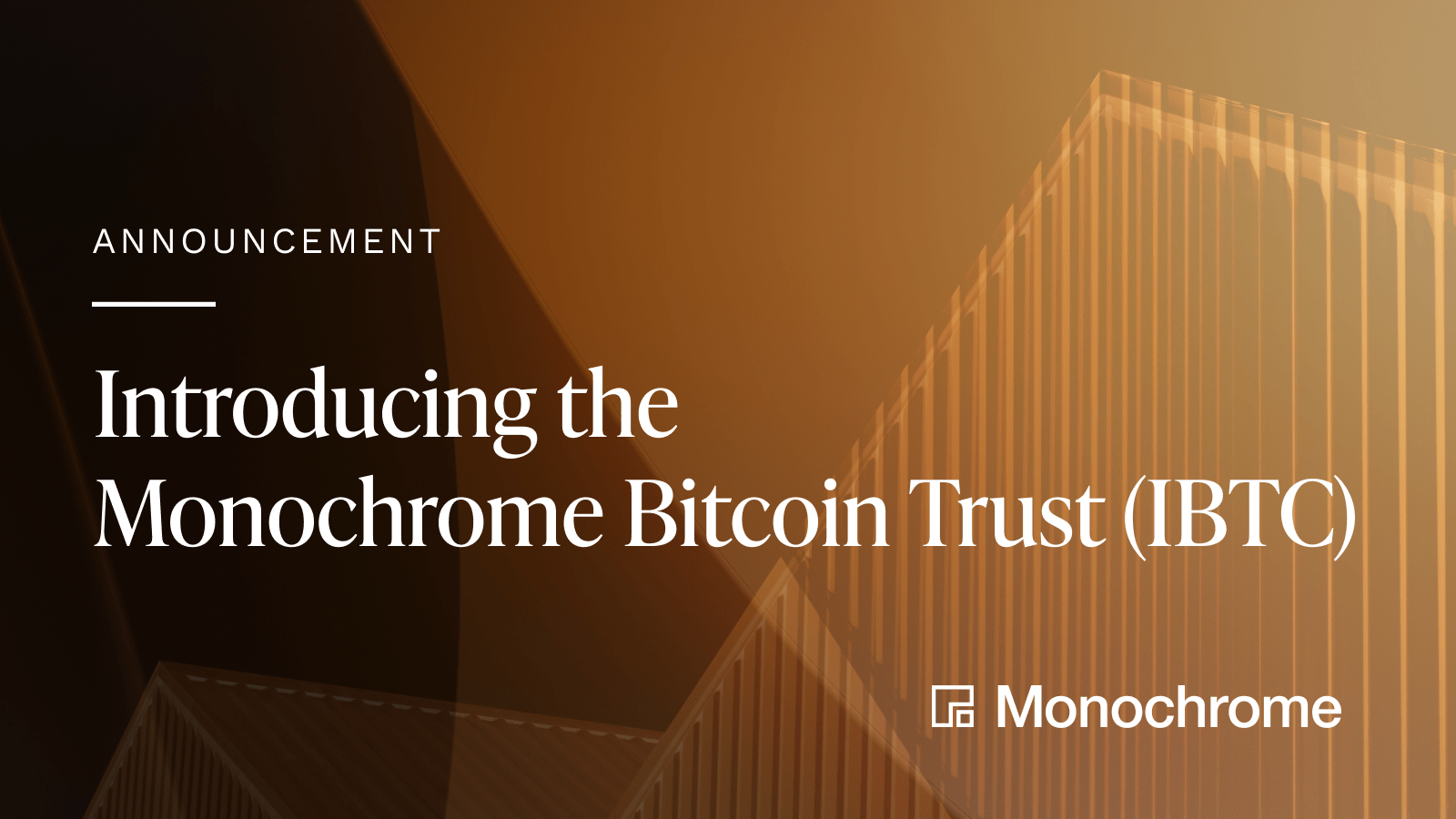 BRISBANE, March 13, 2023 – In an Australian first, Monochrome Asset Management has announced today the launch of the Monochrome Bitcoin Trust (IBTC), the first and only regulator-approved crypto-asset retail fund in Australia, providing investors with legal rights to their specific bitcoin holdings in the fund.
The fund is offered under an Australian financial services licence (AFSL) and meets the strict regulatory guidelines applicable to operating retail managed investment schemes, including insurance, auditing, custody, benchmarking and more.
What is the Monochrome Bitcoin Trust (IBTC)?
The Monochrome Bitcoin Trust (IBTC) allows investors to gain exposure to the price movement of bitcoin without having to manage the regulatory, custody and technical risks of crypto-asset ownership.
The launch of the Monochrome Bitcoin Trust (IBTC) marks the first time where retail investors in Australia can own bitcoin in a single regulated structure that gives them an absolute entitlement to their underlying bitcoin.
This means that unlike a standard unit trust or unregulated cryptocurrency exchanges and brokerages, an investor now has legal rights to their specifically allocated bitcoin in the fund, with the ability to call for their bitcoin to be transferred to them at their direction.
Key Features of the Monochrome Bitcoin Trust (IBTC)
Daily priced with daily liquidity
Legal rights to investors' specifically allocated bitcoin
Beneficiary is absolutely entitled to the underlying bitcoin (SMSF-friendly)
Australian Securities and Investments Commission (ASIC) Regulatory Guide (RG) 133-compliant licensed and insured crypto-custodian
ASIC RG 126-compliant compensation and insurance arrangements
Robust benchmarking, tracked in Australian dollars, compliant with the International Organization of Securities Commission (IOSCO) Principles for Financial Benchmarks
Crypto-assets such as bitcoin are a specialist asset class advancing into the financial services industry. Monochrome Asset Management takes the approach that crypto-assets have risks and unique traits that must be considered by product issuers and market operators in meeting existing regulatory obligations.
Practical examples of how these obligations are to be met were published by ASIC in REP 705, outlining good practices that maintain investor protections and Australia's fair, orderly and transparent markets.
Why the Monochrome Bitcoin Trust (IBTC) was launched
Monochrome Asset Management has been operating its wholesale-only Monochrome Bitcoin Fund (MBF) with industry leading tracking accuracy. The firm produces Financial Planning Association of Australia (FPA)-accredited continuing professional development (CPD) research content on the asset class and sector.
With the introduction of guidelines from ASIC for retail crypto-asset funds offered under a product disclosure statement (PDS), Monochrome Asset Management worked with its responsible entity (RE) partner, Vasco Trustees, to secure from ASIC an AFSL authorisation to offer retail investors regulated and insured exposure to approved crypto-assets - one of the first crypto-asset AFSL authorisations to be granted in Australia.
The firm has partnered with industry-leading service providers that were not available at the time of the MBF launch. Investors will see an upgrade in every service provider category. A full list of service providers for the Monochrome Bitcoin Trust (IBTC) can be found in the fund's PDS here.
Dedication to Regulated and Safe Access to Crypto-Assets
The launch of the Monochrome Bitcoin Trust (IBTC) marks an important step forward for both Monochrome Asset Management and the Australian financial services industry, following ASIC's push to protect consumers from the harms associated with unregulated cryptocurrency exchanges and brokerage platforms.
"Monochrome Asset Management is excited to bring to market the first regulator-approved crypto-asset fund giving retail investors legal rights to their underlying bitcoin. This continues the firm's tradition of providing regulated and safe access to crypto-assets with a focus on consumer protection," said Jeff Yew, CEO at Monochrome Asset Management.
For more information
Further information about the Monochrome Bitcoin Trust (IBTC), including the product disclosure statement, reference guide and target market determination, is available here.
About Monochrome Asset Management
Monochrome Asset Management is the Investment Manager of the Monochrome Bitcoin Trust (IBTC). Monochrome Asset Management offers investors regulated access to approved crypto-assets via traditional investment vehicles.
Monochrome Asset Management Pty Ltd ABN 80 647 701 246 (MAM) is a Corporate Authorised Representative (CAR No. 1286428) of Vasco Trustees Ltd ABN 71 138 715 009 | AFSL 344486 (Vasco Trustees). Monochrome is the Investment Manager for the Monochrome Bitcoin Trust (IBTC). Vasco Trustees is the Responsible Entity and the issuer of interests in IBTC. The PDS, Reference Guide and TMD are available at https://monochrome.au/ and should be considered prior to investing. This information is general in nature and does not take into account any person's individual objectives, financial situation or needs. In deciding whether to acquire an interest in IBTC and before investing, investors should read the PDS, Reference Guide and TMD and, with the assistance of a financial adviser, consider if the investment is appropriate for their circumstances.
---
Monochrome Asset Management