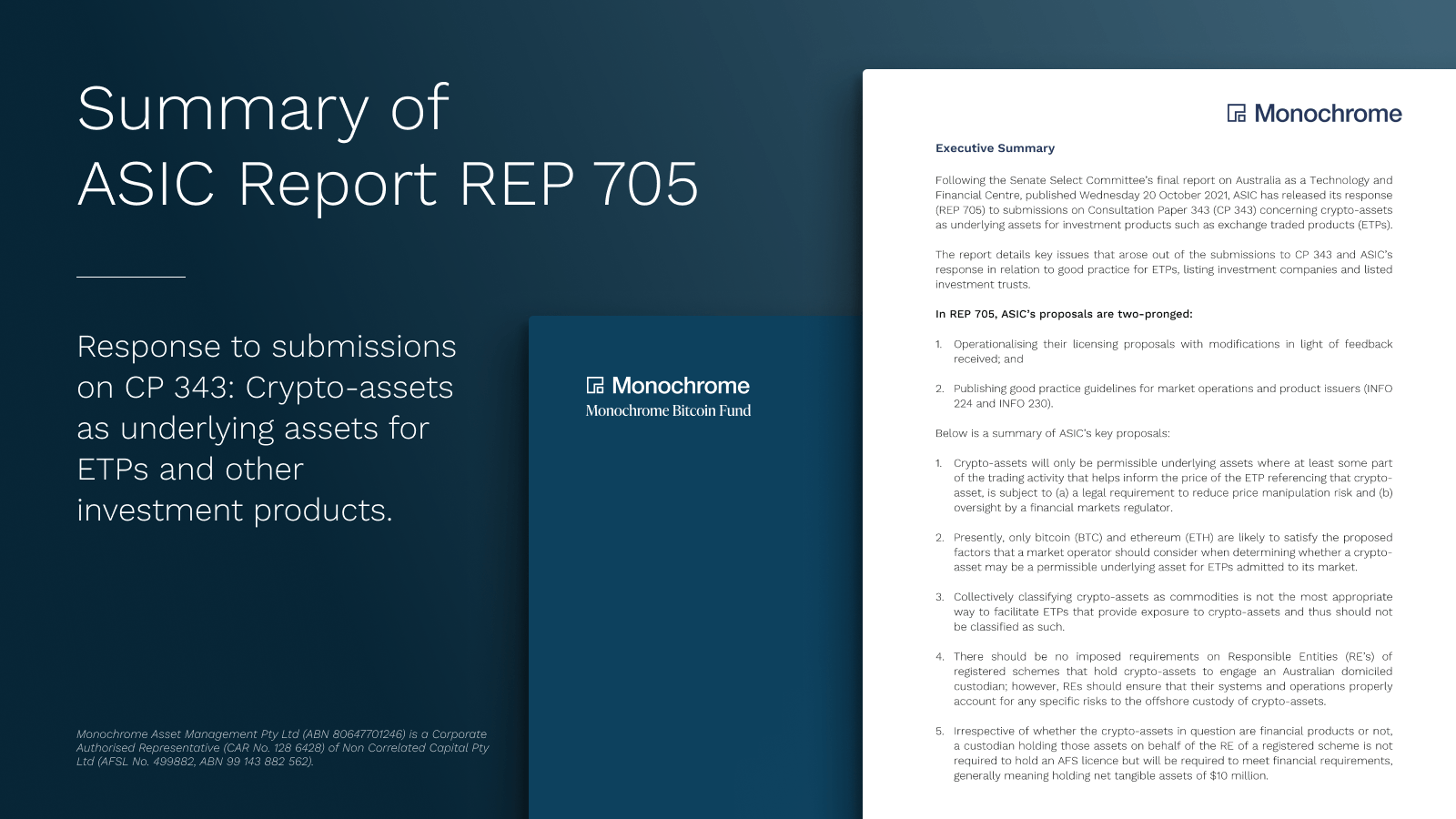 BRISBANE, Saturday 30 October 2021 - On Friday 29 October ASIC released REP 705, its much-anticipated response to submissions on Consultation Paper CP 343 regarding crypto-assets as underlying assets for exchange-traded products (ETPs). ASIC has summarised its licensing proposals and updated its good practice guidelines for market operators and product issuers dealing with crypto-assets (INFO 224, INFO 230).
Perhaps the most important proposal to come out of the report, ASIC stated its preference for a standalone crypto-asset category to be applied to ASIC's licensing asset kinds.
Monochrome Asset Management has prepared an 8 page summary of ASIC's report REP 705.
Summary of ASIC Report REP 705 – Response to submissions on CP 343: Crypto-assets as underlying assets for ETPs and other investment products
This publication has been prepared by Monochrome Asset Management Pty Ltd ABN 80 647 701 246 (Monochrome) the Investment Manager of the Monochrome Bitcoin Fund (the Fund). Monochrome is a Corporate Authorised Representative No. 1286428 of Non Correlated Capital Pty Ltd ABN 99 143 882 562 AFSL 499882 (NCC). NCC is the Trustee of the Fund. This publication has been prepared by Monochrome to provide you with general information only. In preparing this publication, we did not take into account the investment objectives, financial situation or particular needs of any particular person. It is not intended to take the place of professional advice and you should not take action on specific issues in reliance on this information. Neither Monochrome, NCC nor any of their related parties, their employees or directors, provide any warranty of accuracy or reliability in relation to such information or accept any liability to any person who relies on it. You should obtain professional advice and consider the Information Memorandum before making a decision in relation to this product. Any forecasts and hypothetical examples are subject to uncertainty and are not guaranteed. Past performance is not a reliable indicator of future performance. You can obtain a copy of the Information Memorandum for the Fund by contacting Monochrome at https://monochrome.co.
---