BRISBANE, December 14, 2021 – Monochrome Head of Distribution Craig Hobart joined the Institute of Managed Account Professionals (IMAP) Specialist series to discuss Bitcoin, crypto and blockchain.
Mr Hobart's opening contribution to the discussion is available via the above video, with a summary transcript provided below.
Craig Hobart's opening comments
"Monochrome has assembled a team of people with in excess of 150 years' experience across traditional assets and digital assets to bring to market a solution to this industry problem."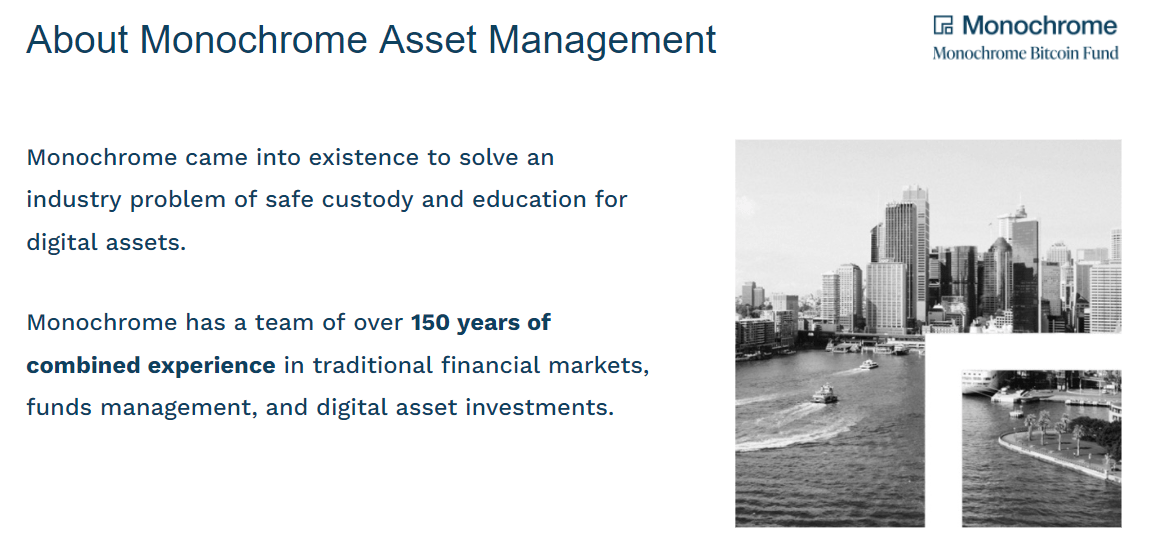 On Monochrome's investment philosophy
"Our core beliefs are that there are some issues that the industry needs to address. Custody is the biggest risk for investors today – when it comes to crypto, we've seen scams, we're aware of them."
"Exchanges today are not regulated. [Senator] Andrew Bragg, obviously his work is very important, and Josh [Frydenberg], the Treasurer, are taking on responsibility for that, progressing into legislation next year.
"As it stands today, custody is the biggest risk. Self-custody is a risk, people lose their keys and wallets, there's over $100 billion worth of Bitcoin that will never be found, for example."
"Our business is designed to solve that not only for wholesale investors, but also for the institutional market."
"In the crypto space, specifically, alpha is not yet proven, so our strategy is going to be to sandbox and look at particular signals in the crypto market, to see whether there are investable ideas that can be brought forward as alpha."
"But in the meantime, we think that the most prudent way to access this is through Bitcoin itself in a passive, spot priced product."
"We also see that there are many risks in digital assets excluding Bitcoin, and for that reason our focus is on Bitcoin."
"Interestingly enough, the regulator [Australian Securities and Investments Commission] put out [Consultation Paper CP 343] in June [2021], and responded with REP 705 on the 29th of October [2021]. In that outcome, they identified that the only two crypto assets that meet a whole range of important criteria – like if it's institutional, the service providers are in place, that there's quality custody available, there's a spot market, there are deep futures markets, regulated futures markets etc. – there are only two crypto assets that met that criteria, being Bitcoin and Ethereum."
"Bitcoin itself as a protocol is very proven, it's been around for 13 years, and it's the base for this whole event that's occurring in markets. It has deep liquidity and it has scale."
"Interestingly, we'll discuss this today; the issue of valuation will come up. It is non-intrinsic in the way that price is determined, as opposed to nominal valuations, which is nearly every other asset that is traded in markets."
"Most assets – things like equities, bonds, property, infrastructure – all come back related to interest rates in some way. Bitcoin itself is not linked to that, and we'll talk more about that later."
"Importantly our last belief is that education is really appropriate right now."
"We ran a survey with the advice community - 77% of advisors had an enquiry from clients in the last 12 months, and 89% of them said to us that they felt ill-equipped to respond. That's partly education, partly regulation and partly the availability of suitable products."
"But we have developed a suite of educational CPD content to help address that as well."
"We believe the advice industry is actually the White Knight in this event that's occurring, and they will provide security, comfort and conversation with their clients going forward."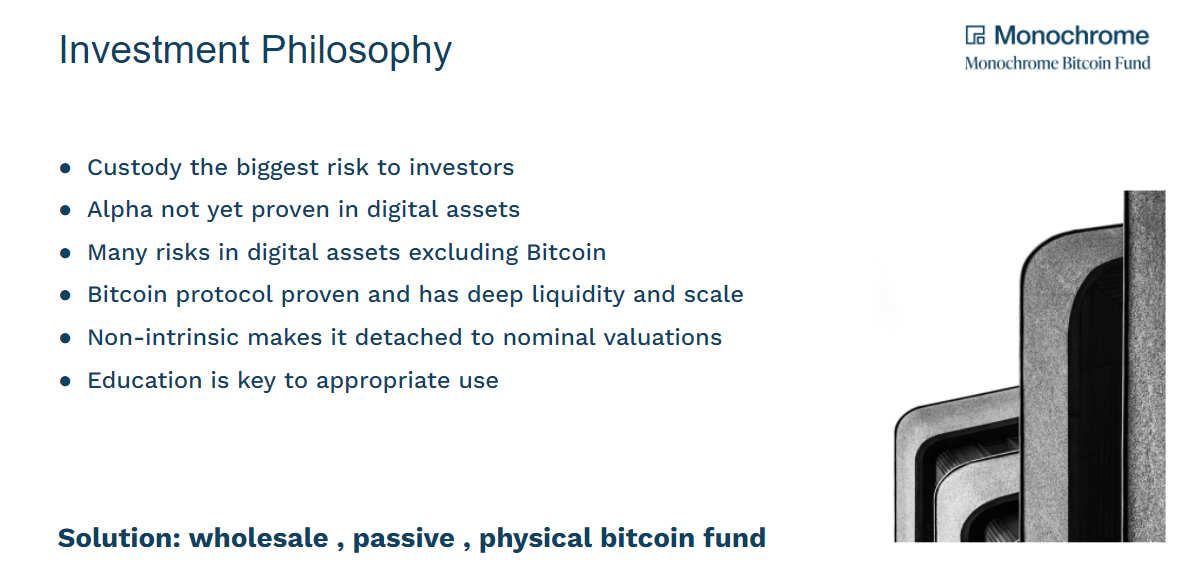 "So our solution is a wholesale, passive, physical Bitcoin fund."
On usage of the fund
"We're using our industry knowledge to determine the best way to achieve safe custody, we're using the licences available. Interestingly enough, in REP 705, for the first time in the history of this asset class, ASIC has determined there is a way for Bitcoin and Ethereum to be issued under a PDS, subject to adjustment to licensing and providing the solution for custody etc., so very importantly, while we operate under a wholesale environment, for the first time a PDS will be able to be issued and we will be delivering that product in the new year."
On Bitcoin volatility
"Finally I just wanted to talk about how this asset actually behaves."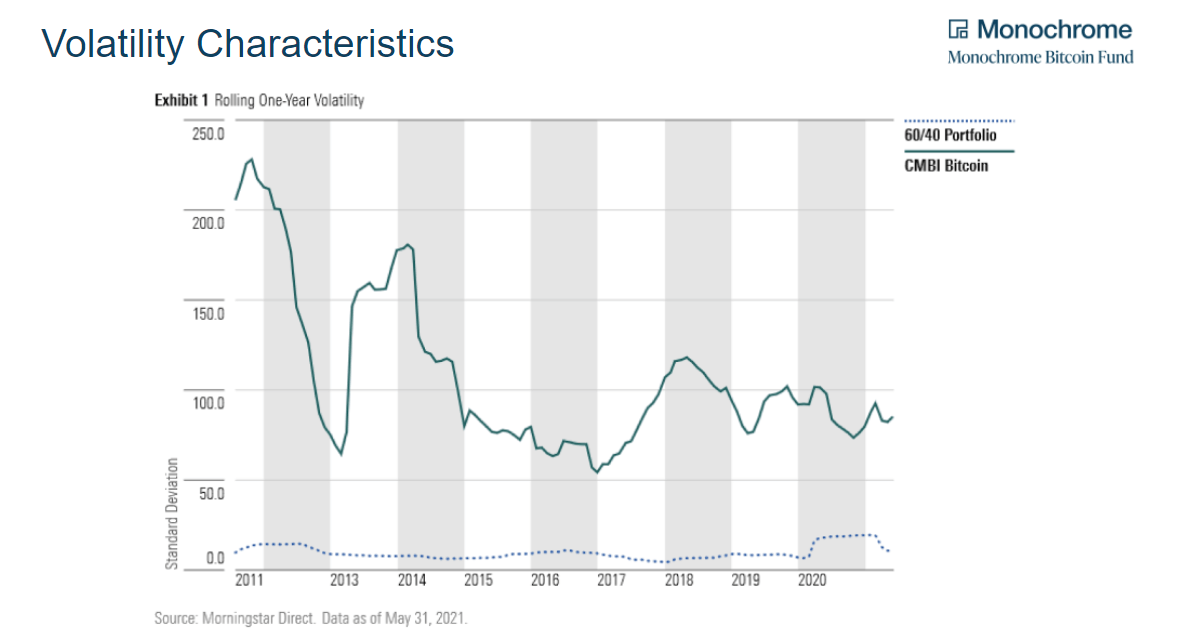 "Very importantly, you can see in this volatility chart, we have a classic diversified product."
"The fine dotted line along the bottom – the volatility is very low – and then you look at Bitcoin itself, and it has massive volatility."
"So you really need asbestos gloves when you're picking this asset up and using it in a portfolio."
Bitcoin correlation with traditional assets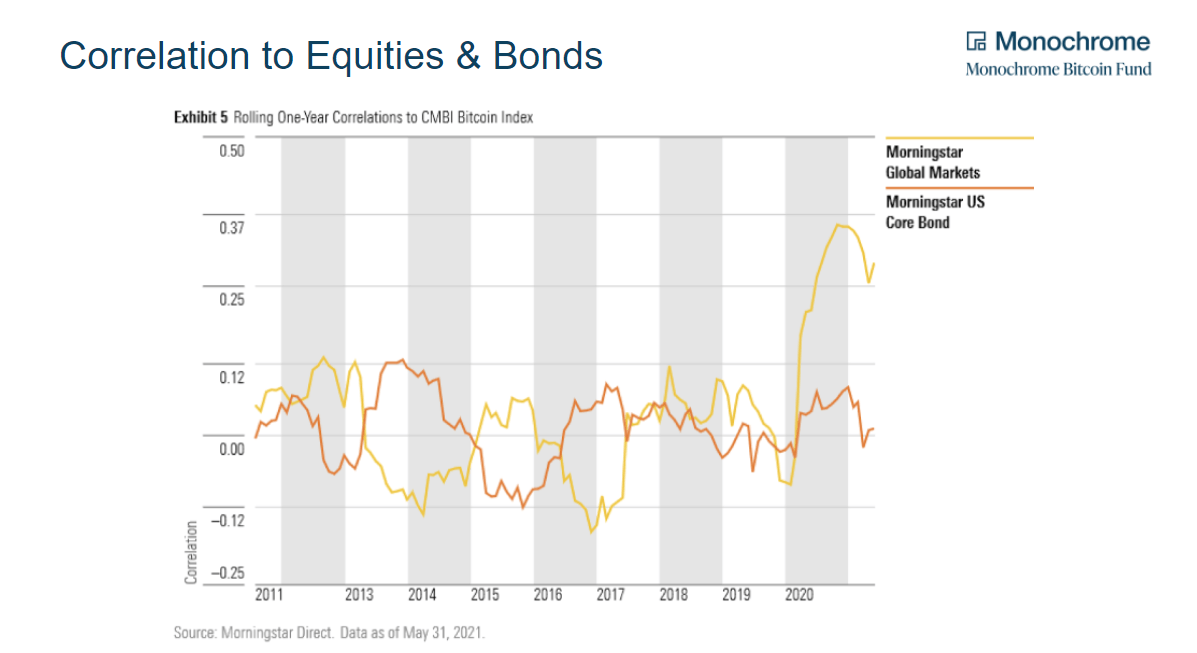 "Equally in that consideration is correlation. Bitcoin is very lowly correlated with bonds, and in the last 12 months there's been a spike in correlation with equities, which coincides with the massive market rally we've seen in equities, which has also occurred in Bitcoin."
Comments regarding a hypothetical portfolio – traditional 60/40 fund + BTC allocation
"So, how do you use it? Well, there are a number of conversations that can take place with advisors and with clients."
"The first is, how much are you willing to lose? And I think that's a prudent conversation to have."
"Classically, we're seeing overseas, between 1% and 5% is the asset allocation that's being delivered, and then advisors with their clients are reallocating back to a strategic benchmark periodically, whether it be a market review or an asset target."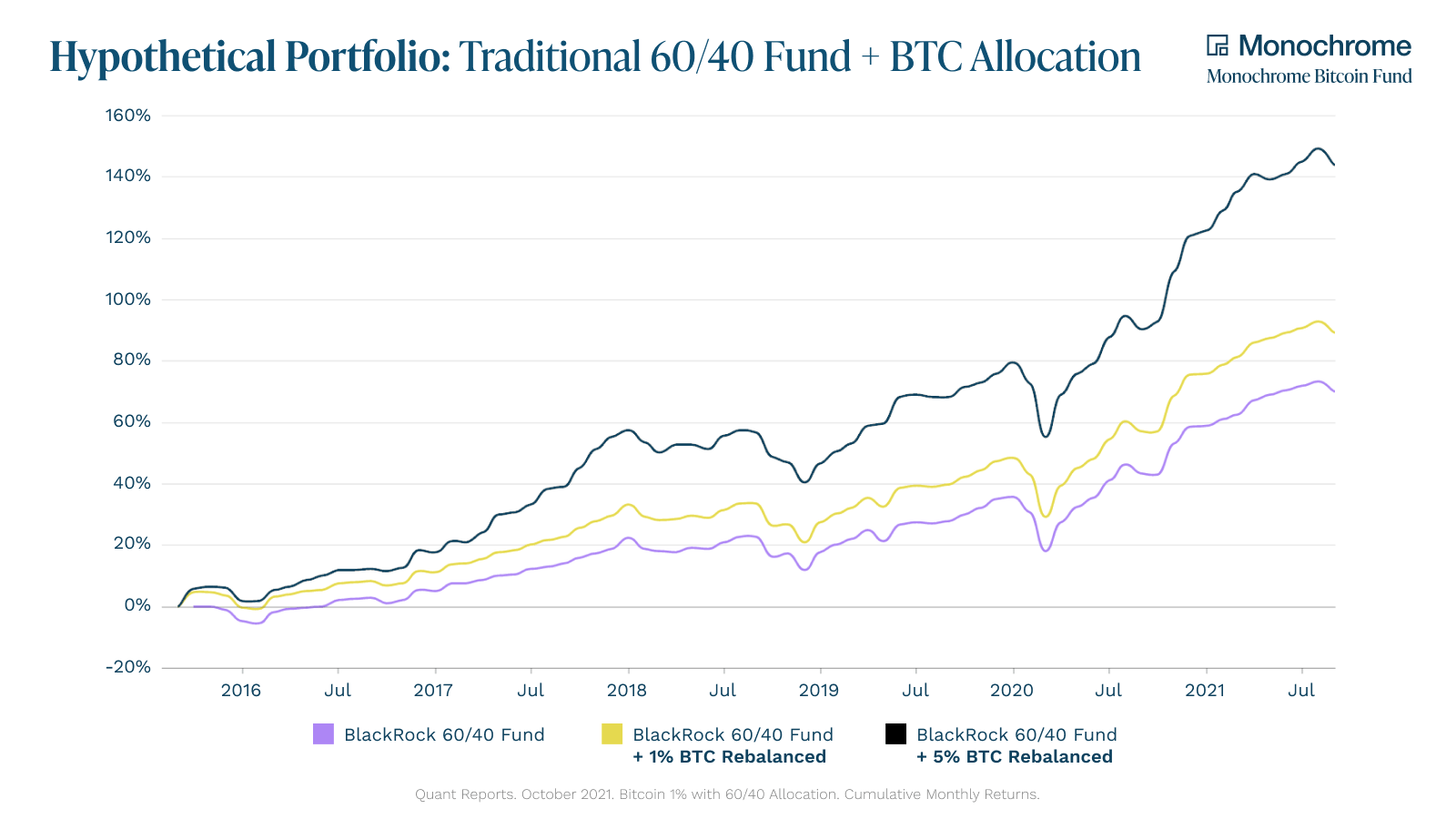 "You can see here the impact of 5% of Bitcoin on a diversified portfolio being reweighted monthly over the long-term being the top line. And then if you have a 1% allocation, you're not materially increasing the volatility of the product or solution, but you are seeing increased returns."
This publication has been prepared by Monochrome Asset Management Pty Ltd ABN 80 647 701 246 (Monochrome) the Investment Manager of the Monochrome Bitcoin Fund (the Fund). Monochrome is a Corporate Authorised Representative No. 1286428 of Non Correlated Capital Pty Ltd ABN 99 143 882 562 AFSL 499882 (NCC). NCC is the Trustee of the Fund. This publication has been prepared by Monochrome to provide you with general information only. In preparing this publication, we did not take into account the investment objectives, financial situation or particular needs of any particular person. It is not intended to take the place of professional advice and you should not take action on specific issues in reliance on this information. Neither Monochrome, NCC nor any of their related parties, their employees or directors, provide any warranty of accuracy or reliability in relation to such information or accept any liability to any person who relies on it. You should obtain professional advice and consider the Information Memorandum before making a decision in relation to this product. Any forecasts and hypothetical examples are subject to uncertainty and are not guaranteed. Past performance is not a reliable indicator of future performance. You can obtain a copy of the Information Memorandum for the Fund by contacting Monochrome at https://monochrome.co.
---
Jamie Grohman
Marketing & Content Manager
Monochrome Asset Management