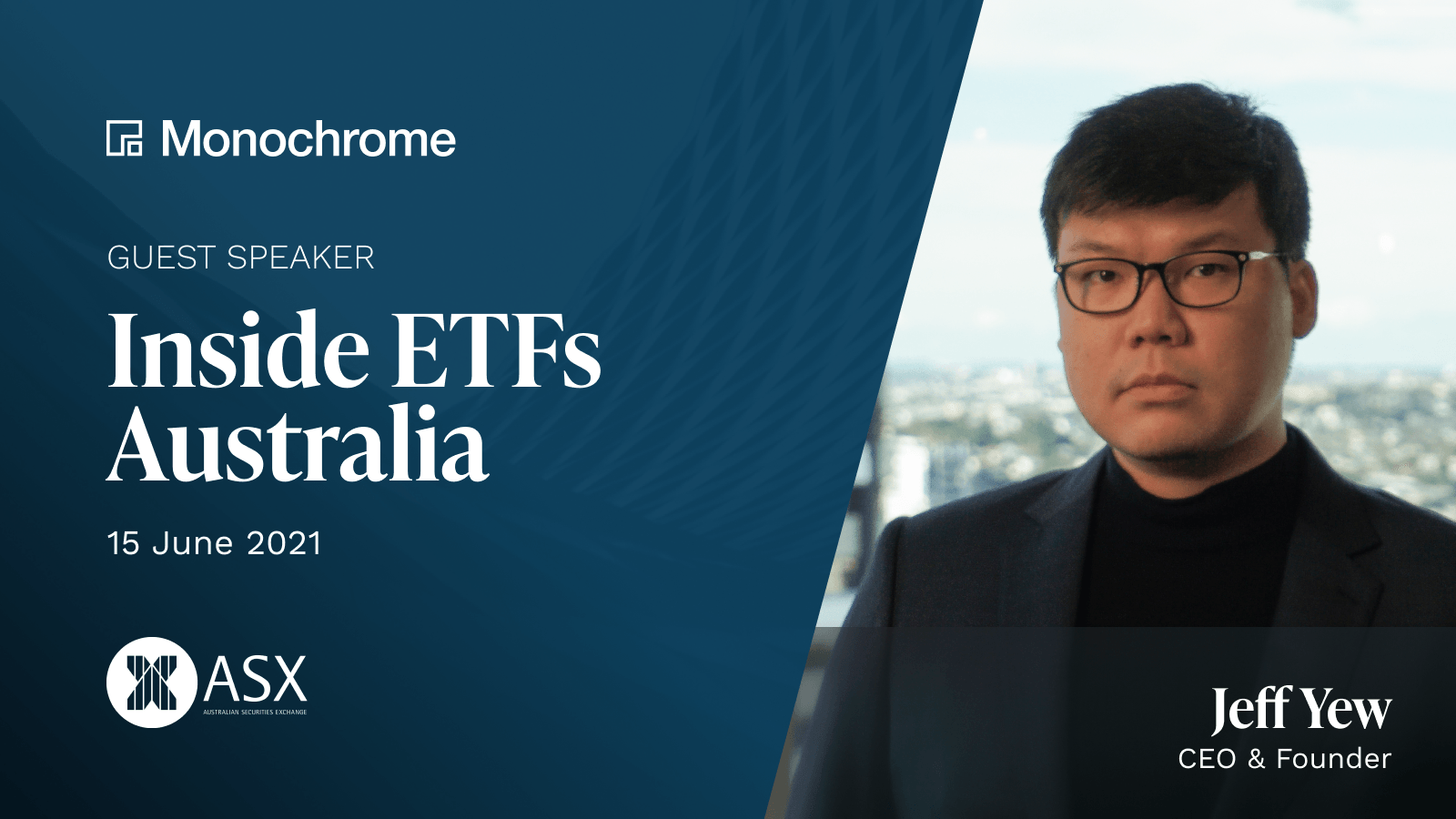 SYDNEY, June 30, 2021 -- As major institutions around the world shift their attention towards Bitcoin, Monochrome has emerged to be the torchbearer for institutional-grade digital asset access in the country.
Monochrome Asset Management's CEO, Jeff Yew, was invited to present the case for a Bitcoin ETF in Australia at the inaugural Inside ETFs Australia conference, held at the ASX Auditorium in Sydney on June 15, 2021.
Australia has traditionally been at the forefront of innovation and regulation of new asset classes. However, there is still work to be done to ensure Australia retains an edge in a global race towards Bitcoin exchange-traded funds (ETFs).
"Holding bitcoin in an ETF is a simple and familiar way for both everyday and institutional investors to access the asset class. With an ETF, you get instant integration with wrap programs, making the consumer experience smoother," Mr Yew said to Money Management in a recent interview.
"It also shifts the operational and custody risks to professional issuers and managers. This lowers the barrier of entry for consumers of the financial product - making it a smoother investment," Mr Yew said.
Monochrome's flagship institutional product, the Monochrome Bitcoin Fund, is an ASIC-regulated wholesale managed investment scheme, serving a market of exclusively wholesale investors with a minimum investment of $50,000.
"At this stage, Monochrome's client base is made up of family offices and ultra-high-net-worth individuals. A Bitcoin ETF provides a seamless way for a wider range of investors to introduce the asset class into a diversified portfolio," Mr Yew said.
Bitcoin is now recognised worldwide as an asset class, and Monochrome believes that every Australian investor should have the right to safely gain exposure to digital assets within a diversified portfolio via a conventional and familiar investment vehicle.
This publication has been prepared by Monochrome Asset Management Pty Ltd ABN 80 647 701 246 (Monochrome) the Investment Manager of the Monochrome Bitcoin Fund (the Fund). Monochrome is a Corporate Authorised Representative No. 1286428 of Non Correlated Capital Pty Ltd ABN 99 143 882 562 AFSL 499882 (NCC). NCC is the Trustee of the Fund. This publication has been prepared by Monochrome to provide you with general information only. In preparing this publication, we did not take into account the investment objectives, financial situation or particular needs of any particular person. It is not intended to take the place of professional advice and you should not take action on specific issues in reliance on this information. Neither Monochrome, NCC nor any of their related parties, their employees or directors, provide any warranty of accuracy or reliability in relation to such information or accept any liability to any person who relies on it. You should obtain professional advice and consider the Information Memorandum before making a decision in relation to this product. Any forecasts and hypothetical examples are subject to uncertainty and are not guaranteed. Past performance is not a reliable indicator of future performance. You can obtain a copy of the Information Memorandum for the Fund by contacting Monochrome at https://monochrome.co.
---
Hannah Tan
Design & Communication
Monochrome Asset Management