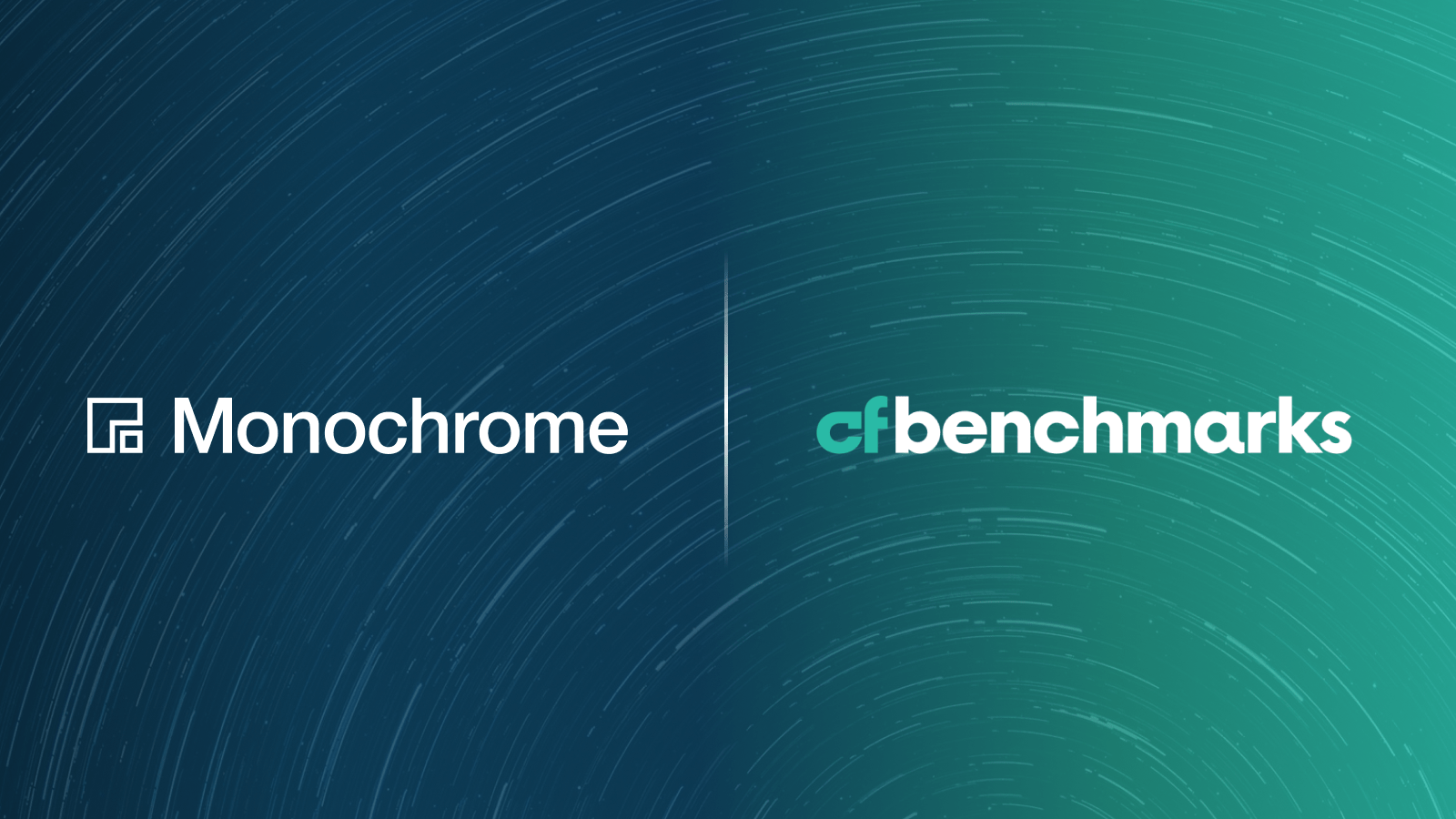 BRISBANE, November 25, 2021 – Global market-leader CF Benchmarks will provide professionally aggregated benchmarks for Monochrome financial products in an Australian first.
The partnership will focus on providing high-grade, regulated benchmarking to ensure the integrity of underlying assets contained within Monochrome product offerings. In utilising the CME CF Bitcoin Reference Rate (BRR), Monochrome products are built off the highest-standard bitcoin reference available today.
"Monochrome is proud to be the first Australian fund manager to partner with CF Benchmarks," said Jeff Leal, COO and Head of Digital Markets at Monochrome.
CF Benchmarks is the index administrator for contract settlement for leading US futures exchange Chicago Mercantile Exchange (CME) amongst other major financial institutions.

With daily operation since launch on 14th November, 2016, the BRR is the most trusted source for Bitcoin pricing and the premier price benchmark for Bitcoin risk settlement, being a Registered Benchmark under the European Union's Benchmark Regulation (BMR).
"The benchmarking they provide meets the highest standards of regulatory compliance in all corners of the globe and sets the industry standard for any fund engaging with digital assets" Mr Leal continued.
Monochrome's partnership with CF Benchmarks aligns with recent ASIC guidance (INFO 230) regarding ETPs in which the robustness and transparency of the index, with respect to the arrangements with the index provider, comply with recognised index selection principles.
"As a digital asset specialist with extensive experience in traditional finance we provide our investors the trust needed to safely navigate the risks and complexities of digital asset ETFs," said Mr Leal.
"Monochrome is focussed on delivering the highest regulatory standards in its approach to digital assets and in our selection of partners."
"That experience and approach is what differentiates Monochrome from other ETF issuers looking to launch a Bitcoin ETF in Australia," closed Mr Leal.
"Products like Bitcoin ETFs provide price exposure without the need to hold the physical asset, ultimately making cryptocurrencies more accessible to a wider range of investors," commented Sui Chung, CEO of CF Benchmarks. "With one of the world's largest pools of long-term savings about to open up to cryptocurrencies, Monochrome stands at the forefront of a watershed moment for the Australian crypto market."
About CF Benchmarks
CF Benchmarks is the leading provider of cryptocurrency benchmark indices, authorised and regulated by the UK FCA under the EU BMR. Its benchmark indices are provided through public methodologies and transparent governance, for tracking, valuing and settling risk in cryptocurrency financial services and products. CF Benchmarks' indices have been used to settle over $400bn of cryptocurrency derivative contracts listed for trading by CME Group and Kraken Futures.
To learn more, please visit www.cfbenchmarks.com
About CME CF Bitcoin Reference Rates (BRR)
The CME CF Bitcoin Reference Rate (BRR) is a once a day benchmark index price for Bitcoin that aggregates trade data from multiple Bitcoin-USD markets operated by major cryptocurrency exchanges that conform to the CME CF Constituent Exchange Criteria. Calculated every day since its launch on 14th November 2016, it is the most trusted source for Bitcoin pricing and the pre-eminent price benchmark for Bitcoin risk settlement being a Registered Benchmark under EU BMR. The BRR is the settlement index for futures contracts listed by CME Group and Crypto Facilities MTF as well as being the pricing source for NAV/i-NAV determinations for investment products offered by major financial institutions including WisdomTree Europe.
The content, presentations and discussion topics covered in this material are intended for licensed financial advisers and institutional clients only and are not intended for use by retail clients. No representation, warranty or undertaking is given or made in relation to the accuracy or completeness of the information presented. Except for any liability which cannot be excluded, Monochrome, its directors, officers, employees and agents disclaim all liability for any error or inaccuracy in this material or any loss or damage suffered by any person as a consequence of relying upon it. Monochrome advises that the views expressed in this material are not necessarily those of Monochrome or of any organisation Monochrome is associated with. Monochrome does not purport to provide legal or other expert advice in this material and if any such advice is required, you should obtain the services of a suitably qualified professional.
---
Jamie Grohman
Marketing & Content Manager
Monochrome Asset Management