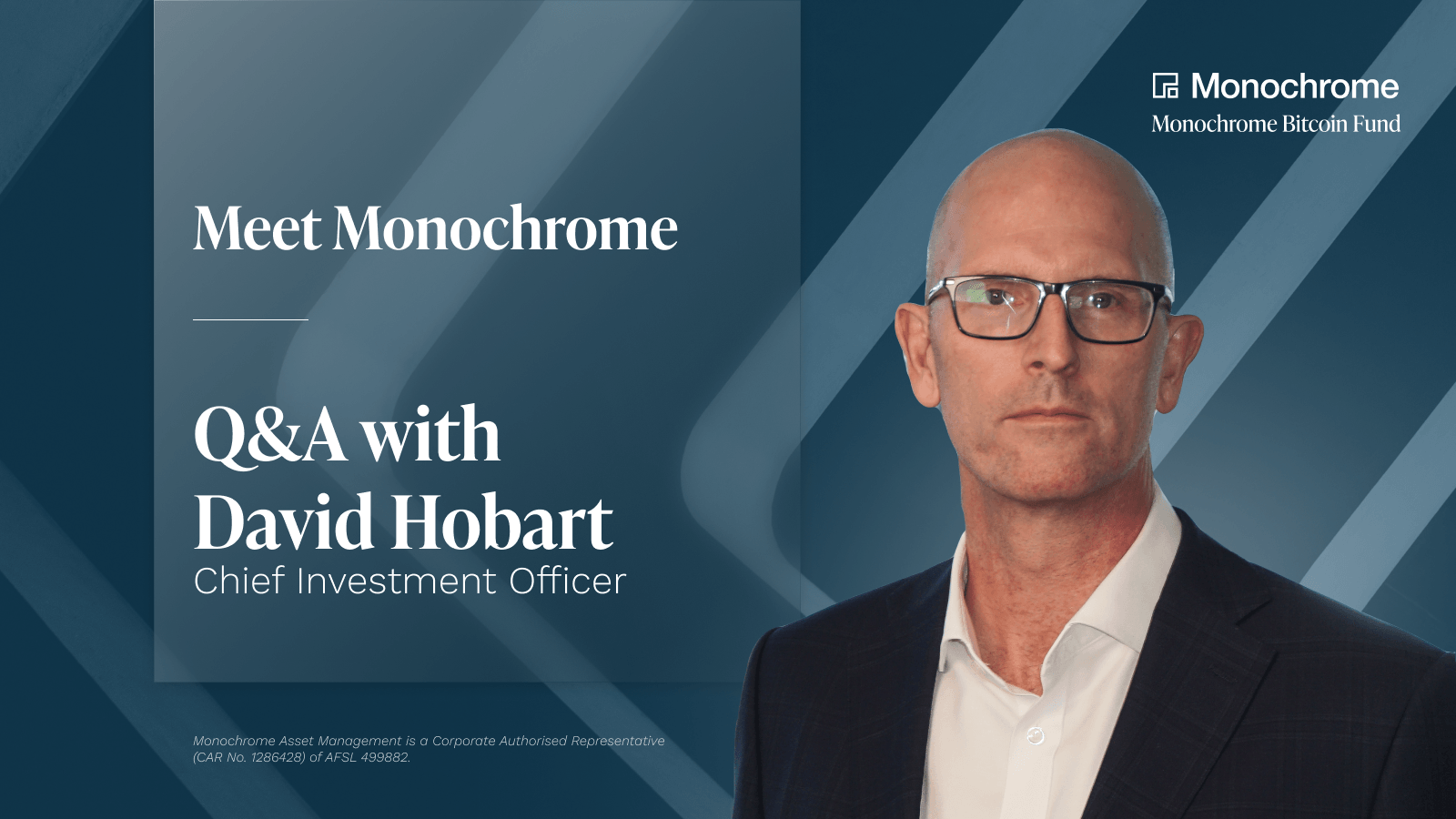 Monochrome is pleased to present the first of our "Meet Monochrome" series, introducing the team behind Monochrome Asset Management, the torchbearer of institutional-grade access to digital assets in Australia. Featuring David Hobart, Monochrome's Chief Investment Officer.
1. Tell us about your professional career that led you to this moment, as Monochrome's Chief Investment Officer.
So I started out as a trader, working for one of the investment banks in Sydney in foreign exchange, then I moved into proprietary trading and from there I went into running my own hedge fund, which was a global macro fund. I ran the hedge fund up until 2015, moved out of that and invested in digital assets.
2. How did you get into Bitcoin?
In 2015 when I left my hedge fund business, I was looking for places where I could put some cash to diversify my portfolio. I didn't want cash just sitting in the bank and wanted to diversify into another asset class, and I looked at Bitcoin at the time as sort of a liquid cash alternative. Whilst it was much more volatile and more nascent, I thought it was an interesting area that was developing, so I allocated a small percentage of my portfolio at the time into Bitcoin.
3. Why Monochrome?
I met Jeff some time ago, and I found Jeff's perspective on the digital asset landscape to be quite balanced, which I found quite refreshing. Now, I'm an investor from the traditional finance space and have been involved in digital assets for awhile - but I haven't [been] caught up in the 'religious aspect' around digital assets and wanted to bring a more balanced perspective from my traditional finance background.
4. What is something you know now that you wish you knew at the start of your career?
99% of all the things I worried about and all the risks that I thought were right in front of me in relation to investment markets - never occurred. If I could do anything differently over that time, I would be less of a 'chicken little' and embrace the world and the opportunities that it provides.
5. What book have you read that has informed the choices you have made in your career/life?
In terms of markets, two come to mind. The first is almost a textbook rather than a book, it's called Technical Analysis of Futures and Commodities Markets by a chap named John Murphy. It gives you all the psychology underpinning technical analysis in markets.
The second would be Reminiscences of a Stock Operator by Edwin Lefèvre, which is a frolicking tale, but it is inspired by Jesse Livermore's experience as a stock trader through the 20s and 30s boom and bust cycle.
The content, presentations and discussion topics covered in this material are intended for licensed financial advisers and institutional clients only and are not intended for use by retail clients. No representation, warranty or undertaking is given or made in relation to the accuracy or completeness of the information presented. Except for any liability which cannot be excluded, Monochrome, its directors, officers, employees and agents disclaim all liability for any error or inaccuracy in this material or any loss or damage suffered by any person as a consequence of relying upon it. Monochrome advises that the views expressed in this material are not necessarily those of Monochrome or of any organisation Monochrome is associated with. Monochrome does not purport to provide legal or other expert advice in this material and if any such advice is required, you should obtain the services of a suitably qualified professional.
---
Hannah Tan
Design & Communication
Monochrome Asset Management