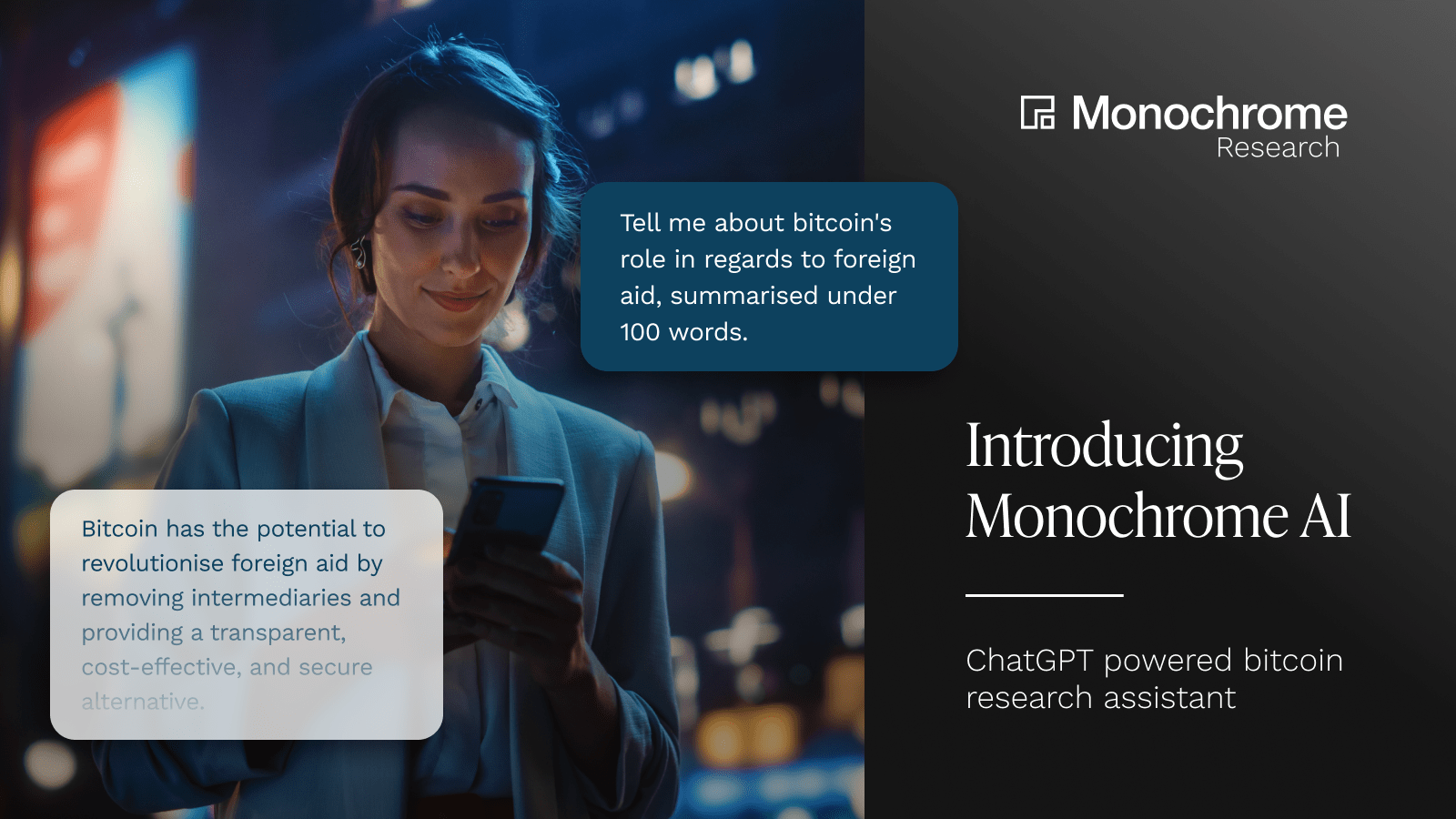 BRISBANE, 31 July, 2023 – Monochrome Research has launched its AI bitcoin research assistant, currently in beta. The new AI research assistant is a ChatGPT powered chatbot to help you navigate the complexities of digital asset research with a more efficient and effective approach.
Overview
Monochrome's AI chatbot functions as a learning assistant tied to each Monochrome Research piece. With the chatbot's user-friendly interface, it can assist you in gaining insights and explanations, and in understanding concepts related to digital assets and the bitcoin network.
How does the chatbot work?
The OpenAI GPT model, a language processing technology, drives the Monochrome AI chatbot's functionality. This model enables the chatbot to understand your questions and respond in a contextually relevant and informative way. The AI chatbot's knowledge base is continuously refined by its machine learning skills, allowing you to receive relevant and objective information about bitcoin.
Where can I use the Monochrome Research AI chatbot?
The Monochrome Research AI chatbot is integrated into all Monochrome Research articles. The AI chatbot is available for all, making it an inclusive tool for anyone seeking to refine their knowledge on bitcoin.
Dive deeper into the Monochrome Research catalogue with your new virtual research assistant here.
---
Disclaimer: Please note that while the AI chatbot is designed to facilitate informative and engaging conversations, it may also produce inaccurate, false or misleading information about people, places or facts due to its reliance on pre-existing data and patterns. Users should always cross-verify critical information from trusted sources and seek independent advice before making financial decisions. Monochrome and its directors and staff disclaim any and all liability for damages, losses or harms of any kind that result from the use of the AI chatbot and/or actions based on the system's outputs. Users of the AI chatbot do so at their own risk. Use of the AI chatbot signifies acceptance of these terms.
---
Monochrome Asset Management