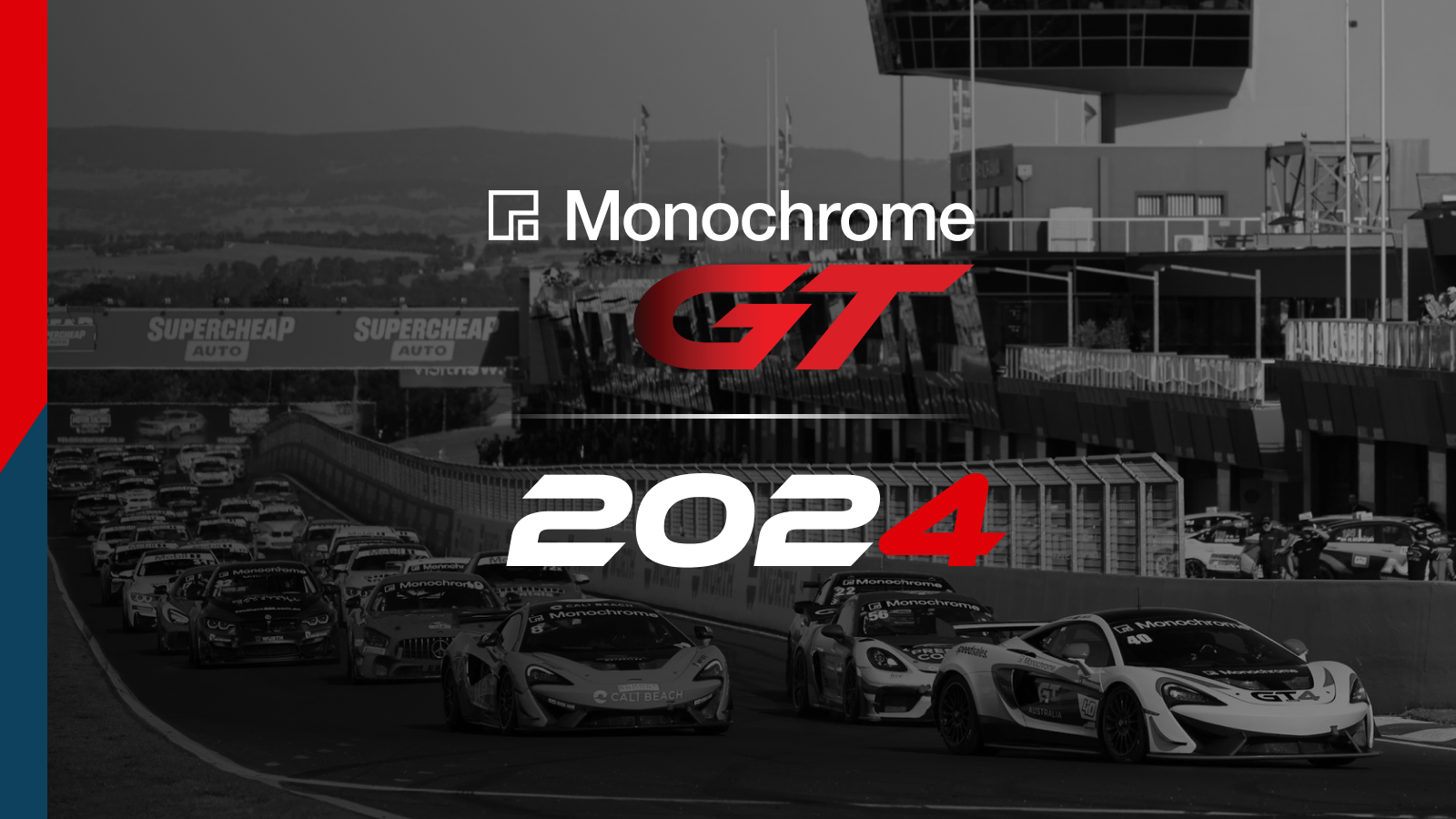 BRISBANE, Friday, 17 November, 2023 – Monochrome Group is proud to unveil the highly anticipated 2024 Monochrome GT4 Australia Championship. Building on the success of its presence within the Australian Production Cars (APC) category, the Monochrome GT4 Australia Championship is set to take a monumental leap forward in 2024 as a standalone category as part of SRO Australia's GT4 offering.
This will see the full integration of the existing Monochrome GT4 Australia Series within APC into the SRO Motorsports Australia GT4 operation, resulting in a fully-aligned GT4 platform in Australia.
This announcement coincides with the release of the 2024 calendar and race formats for the brand-new SRO-promoted and operated Monochrome GT4 Australia Series.
The Monochrome GT4 Australia Series will deliver a blend of sprint and endurance racing formats.
The 2024 Monochrome GT4 Australia Series will kick off its 2024 season with a non-points scoring race at Sandown in February - the opening round of the Shannons SpeedSeries. This event will see a three hour enduro run, with two drivers per-car mandated for the race.
The first official round will take place at Phillip Island in April, coinciding with the opening round of the Fanatec GT World Challenge Australia powered by AWS.
The other five rounds will be held at iconic Australian race tracks, including The Bend, Queensland Raceway, Sydney Motorsport Park, Mount Panorama at Bathurst, with a mid-year round at a venue to be announced.
The 2024 Monochrome GT4 Australia Series will adopt the FIA driver categorisation system, a silver FIA driver categorisation is the highest permitted to participate in the series.
With more new GT4 cars continuing to land in the country, the category anticipates up to 20 cars at the season opener.
Brands confirmed to compete from the opening non-championship race at Sandown include BMW, Mercedes AMG, McLaren, Ginetta and more.
See the full calendar and race formats below.
2024 Monochrome GT4 Australia Calendar and Formats
Non-series: Sandown 9th-11th Feb - 3hr Enduro
Round 1: Phillip Island April 12th-14th - 2 x 60mins Sprints
Round 2: The Bend May 24th-26th - 2 x 60 mins Sprints
Round 3: Queensland Raceway July 19th-21th - 4 hour Enduro
Round 4: TBC Aug 30th-Sep 1st - 4 hour Enduro
Round 5: Sydney Motorsport Park Oct 18th-20th - 2 x 60 mins Sprints
Round 6: Bathurst Nov 8th-10th - 2 x 60 mins Sprints
*Sprint rounds to have 2 practice session & 2 qualifying sessions
*Sprint rounds to have mandatory pit stop
*Enduro rounds to have 2 practice sessions & 1 qualifying session
*Queensland Raceway to be a sunset into night enduro with stream for the entire race
Quotes
Ben McMellan CEO, SRO Motorsports Australia
"Being able to deliver a fully aligned GT4 offer in Australia is important for the sport and sponsors," said McMellan.
"The support from Karl Begg and Troy Williams from APC has underpinned being able to achieve this outcome. As part of maintaining the current momentum, it is great that Troy will now join SRO as the Category Manager for the SRO Monochrome GT4 Australia Series."
Troy Williams Category Manager, Monochrome GT4 Australia Series
"It's exciting to see our new series coming together," said Williams.
"Alongside SRO Motorsport and Motorsport Australia, we have come up with an exciting calendar with circuits that suit GT4 cars, the broadcasting and most importantly, the competitors.
"One of the things that we wanted was endurance events and suitable race formats. Our competitors want access to some longer races. These cars are built for endurance racing, and we feel that we have struck a great balance, with a mix of 4 Hour races, 3 Hour races and short sprints that will include compulsory pit stops.
"I am pleased that all parties have been able to come to an agreement and that in joining SRO as the GT4 Category Manager, we can now really showcase GT4 racing at its best."
Jeff Yew CEO, Monochrome
"At Monochrome, we believe in investing in the best, and the Monochrome GT4 Australia Series has shown a great potential of becoming one of the most premium customer racing series in Australia," said Yew.
"Throughout the 2023 season, we've seen some really diverse racing, including many different car brands and a wide range of drivers. Next year, that only looks like growing, with more cars coming into the country.
"Seeing brands like BMW, Porsche and Mercedes AMG take on the likes of McLaren, it's a true sports car enthusiast's paradise. This is the only racing series that has McLarens in it, and it's really exciting to see all of these premium supercar brands once again dominate Australian race tracks."
---
Monochrome Asset Management