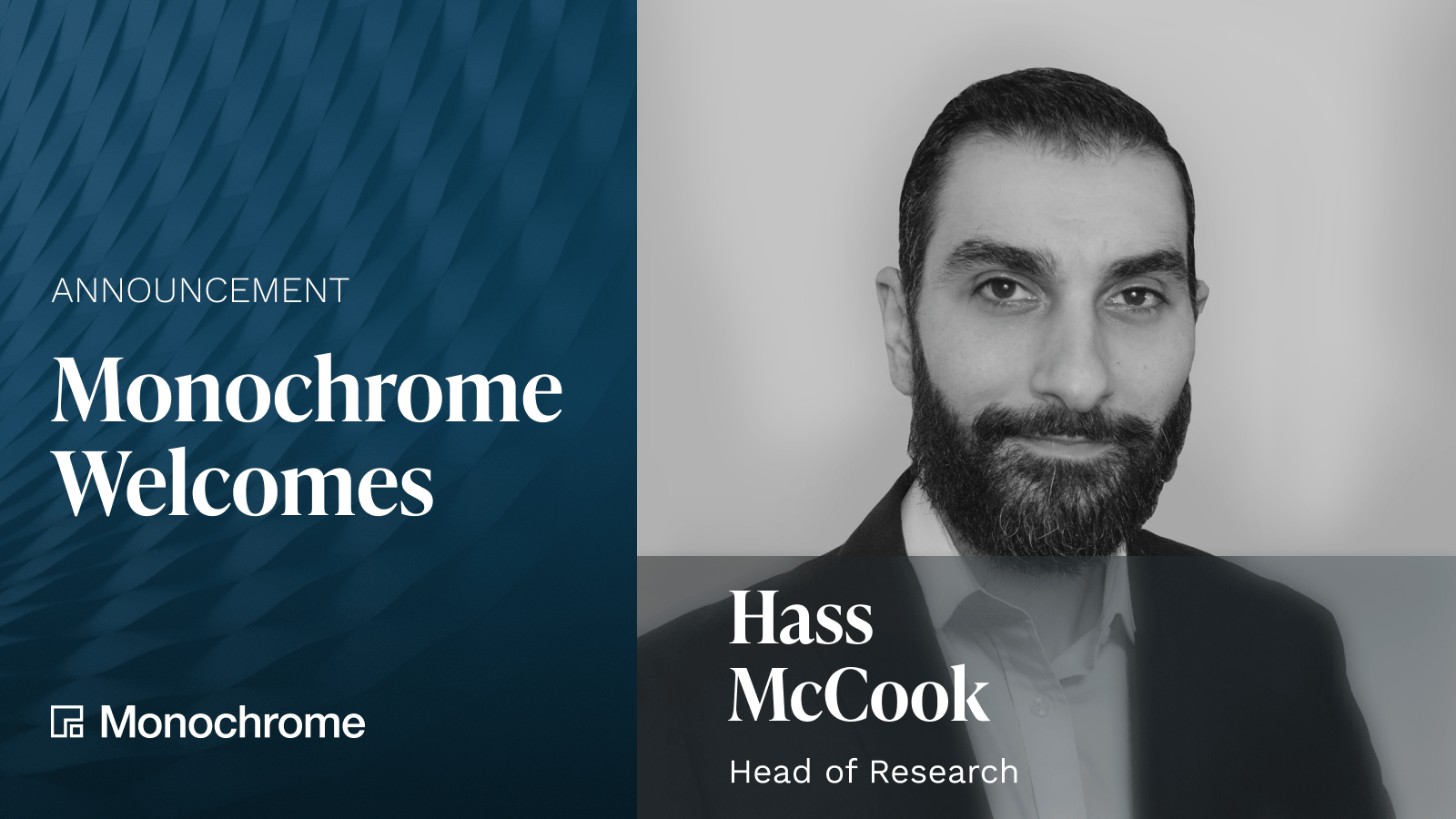 BRISBANE, Monday October 13 2021 -- Monochrome Research today announced their new Head of Research as they continue to develop education on emerging digital assets.
Leading Monochrome Research as Head of Research will be Hass McCook. A globally recognised researcher and analyst with nearly a decade of research experience on Bitcoin, Mr McCook stands as one of the foremost authorities in the digital asset field.
"Hass has material domain expertise in Bitcoin and digital assets. His knowledge of the space is world class and gives Monochrome Research a significant edge in delivering insight to our clients," said David Hobart, CIO of Monochrome Asset Management.
An Engineer and Oxford MBA, Mr McCook has contributed to conversation on digital assets since 2014 across multiple mediums including conference presentations, teaching material and research papers.
"My position in the industry has always been that of a researcher and an educator. The opportunity to join Monochrome as Head of Research gives me the chance to bring this knowledge to the investment community and demonstrate the benefits and risks that digital assets present," said Mr McCook.
A member of the Bitcoin Mining Council alongside the likes of Michael Saylor and Mike Novogratz, Mr McCook has published extensively on topics including the economics, sustainability and development of Bitcoin mining, providing rare insight into inner workings of the asset class.
Mr McCook emphasised the importance of bringing strong fundamental knowledge to the market.
"With a complex environment like the digital asset industry, mastering those foundations becomes even more important," said Mr McCook.
To receive the latest digital asset market research, follow the Monochrome channel on Spotify or subscribe to Monochrome Research below.
The content, presentations and discussion topics covered in this material are intended for licensed financial advisers and institutional clients only and are not intended for use by retail clients. No representation, warranty or undertaking is given or made in relation to the accuracy or completeness of the information presented. Except for any liability which cannot be excluded, Monochrome, its directors, officers, employees and agents disclaim all liability for any error or inaccuracy in this material or any loss or damage suffered by any person as a consequence of relying upon it. Monochrome advises that the views expressed in this material are not necessarily those of Monochrome or of any organisation Monochrome is associated with. Monochrome does not purport to provide legal or other expert advice in this material and if any such advice is required, you should obtain the services of a suitably qualified professional.
---
Jamie Grohman
Marketing & Content Manager
Monochrome Asset Management