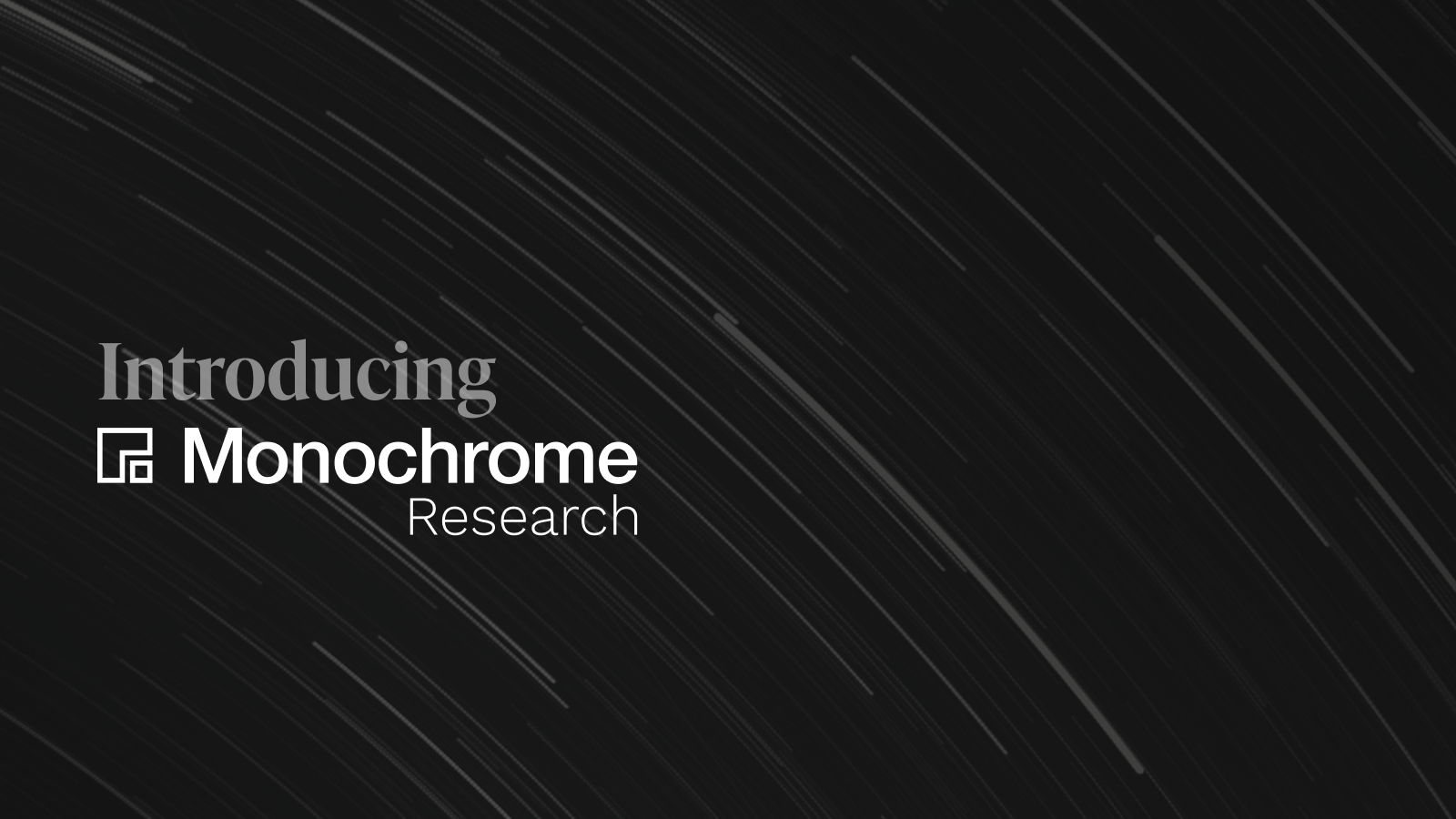 BRISBANE, Monday October 11 2021 -- Monochrome Asset Management today announced the formation of Monochrome Research, a specialist division focused on providing expert-led research and insights to guide institutional investors and financial services professionals as they navigate and evaluate the digital asset industry.
"Following the launch of the Monochrome Bitcoin Fund, we are seeing a defined need from portfolio allocators and professional investors for authoritative and reliable research into digital assets," said Jeff Yew, CEO and founder of Monochrome.
As discussion of pressing topics including regulation, advisor ethics relating to digital assets and effective valuation of those assets enter conversation in Australia, markets will require reliable references to guide decision making.
"Monochrome Research is responding to demand from the financial advice industry for quality research on digital assets that is informative and easy to consume," said David Hobart, CIO at Monochrome and overseer of Monochrome Research.
"This division was created to provide a balanced perspective, enabling advisers to have better informed conversations with their clients." continued Mr Hobart.
Selected content produced by Monochrome Research contains Financial Planning Association (FPA) approved assessment enabling advisers to receive Continuing Professional Development (CPD) points, in addition to providing their clients with quality information for their digital asset investment education. Narrated research pieces are also available on Monochrome's Spotify channel.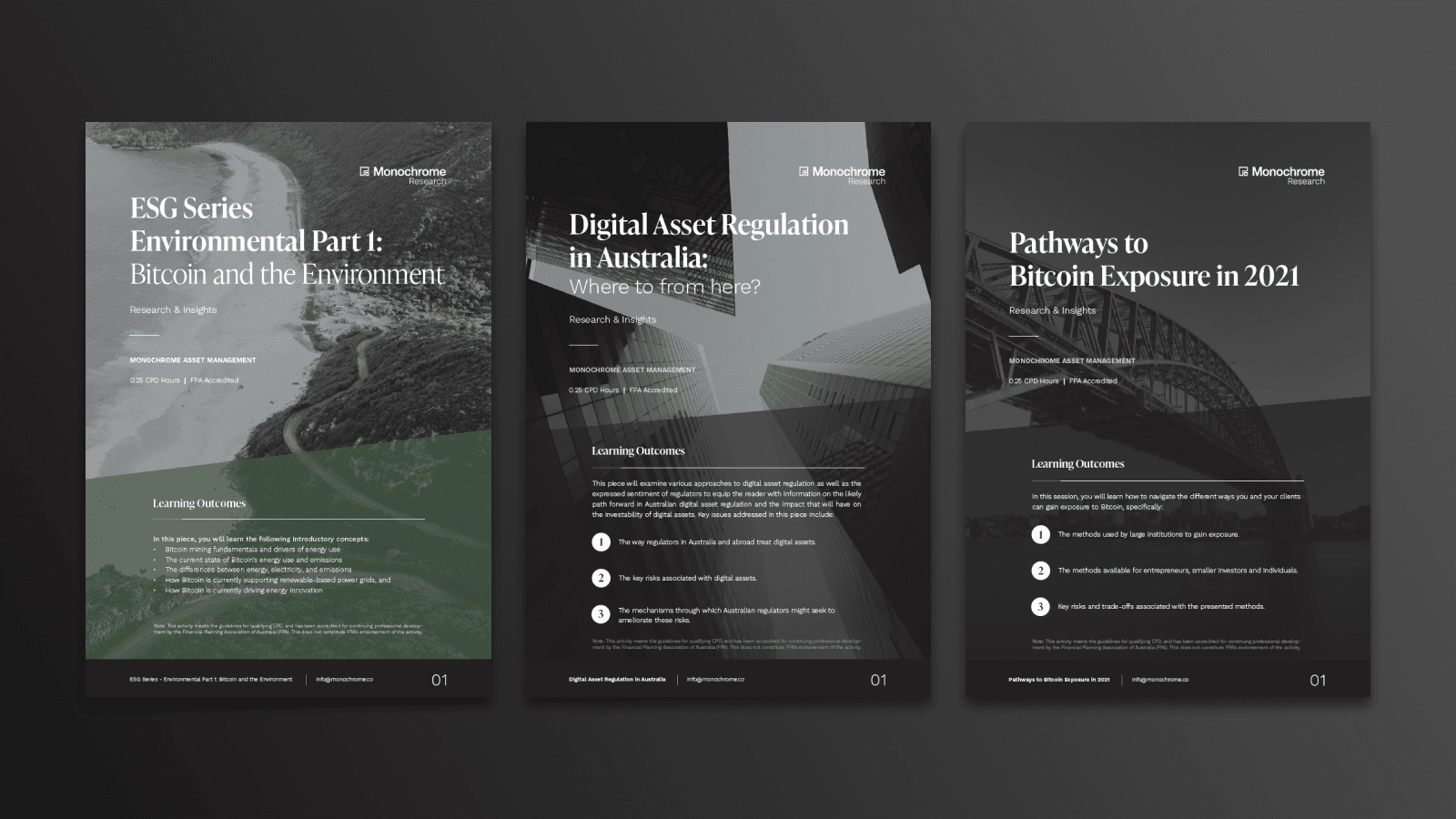 Today's announcement builds on Monochrome Asset Management's foundational roots in both traditional and digital markets, with finance industry veterans such as Jeff Leal and David Hobart combining with one of Australia's most prominent leaders in the digital asset space, Jeff Yew.
"Monochrome has an important role to play in creating a safe, regulated environment for traditional investors to access new emerging digital markets," said Mr Yew.
To receive the latest digital asset market research, follow the Monochrome channel on Spotify or subscribe to Monochrome Research below.
This publication has been prepared by Monochrome Asset Management Pty Ltd ABN 80 647 701 246 (Monochrome) the Investment Manager of the Monochrome Bitcoin Fund (the Fund). Monochrome is a Corporate Authorised Representative No. 1286428 of Non Correlated Capital Pty Ltd ABN 99 143 882 562 AFSL 499882 (NCC). NCC is the Trustee of the Fund. This publication has been prepared by Monochrome to provide you with general information only. In preparing this publication, we did not take into account the investment objectives, financial situation or particular needs of any particular person. It is not intended to take the place of professional advice and you should not take action on specific issues in reliance on this information. Neither Monochrome, NCC nor any of their related parties, their employees or directors, provide any warranty of accuracy or reliability in relation to such information or accept any liability to any person who relies on it. You should obtain professional advice and consider the Information Memorandum before making a decision in relation to this product. Any forecasts and hypothetical examples are subject to uncertainty and are not guaranteed. Past performance is not a reliable indicator of future performance. You can obtain a copy of the Information Memorandum for the Fund by contacting Monochrome at https://monochrome.co.
---
Jamie Grohman
Marketing & Content Manager
Monochrome Asset Management