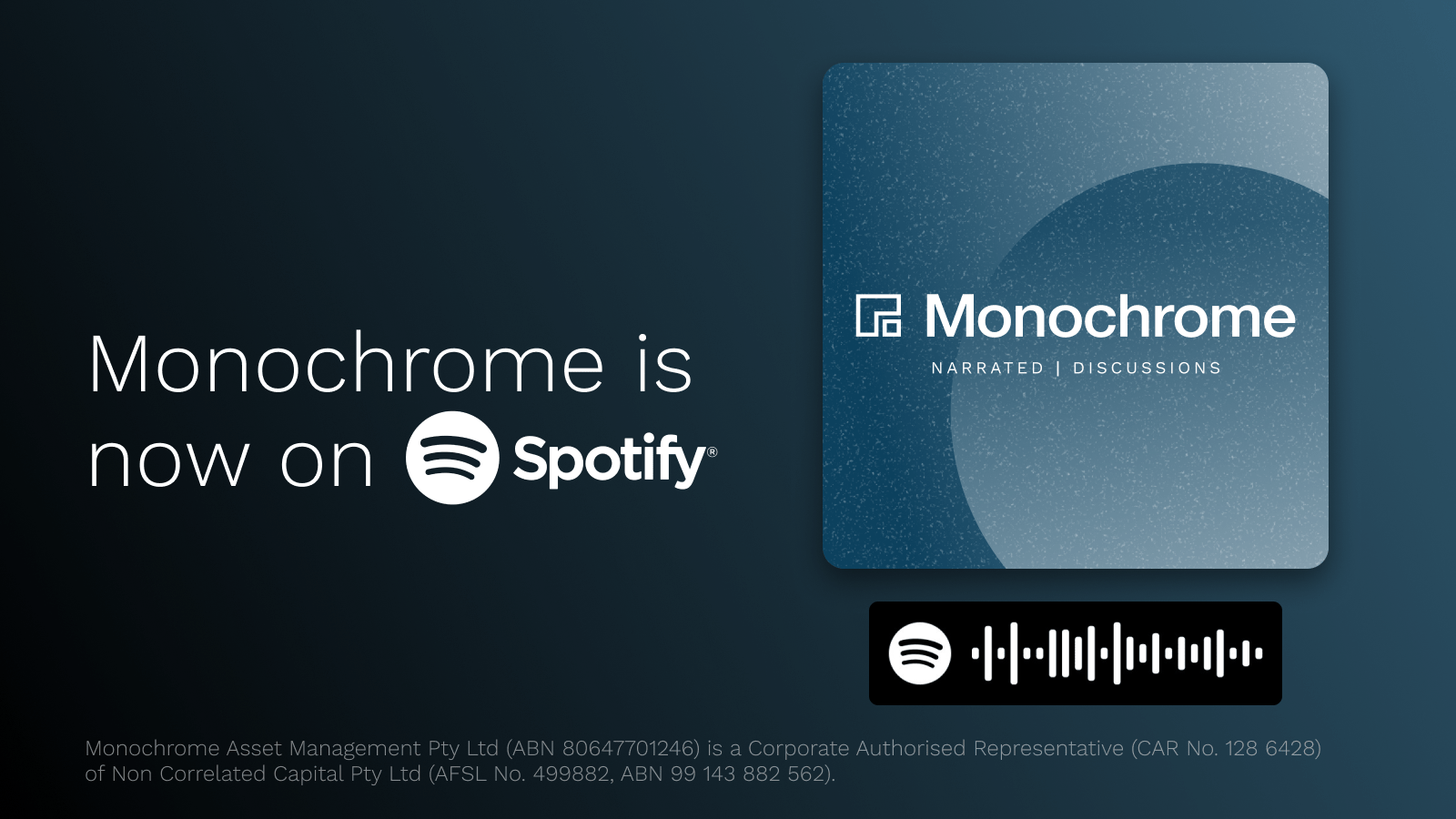 BRISBANE, February 8, 2022 – Monochrome has launched a new channel for professionals to engage with crypto-asset information and research, leading with the narrated Bitcoin Foundational Series on Spotify.
"Learning about an asset class as a professional often means making a genuine time commitment," said Monochrome CEO Jeff Yew.
"As an educator and guiding force for institutional crypto-asset adoption in Australia, Monochrome recognises the need to provide inclusive solutions. Having an audio variant of our content lays the foundation for such an initiative."
"By offering Monochrome Research's content via Spotify, professionals have an accessible and inclusive alternative to reading essays or watching hour-long webinars." added Mr Yew.
The initial offering - the Bitcoin Foundational Series, consists of:
Spotify content will continue to be introduced, with the next addition being Monochrome Research's Bitcoin Risk Series.
Readers can listen to narrated research and discussions from the Monochrome channel on Spotify.
The content, presentations and discussion topics covered in this material are intended for licensed financial advisers and institutional clients only and are not intended for use by retail clients. No representation, warranty or undertaking is given or made in relation to the accuracy or completeness of the information presented. Except for any liability which cannot be excluded, Monochrome, its directors, officers, employees and agents disclaim all liability for any error or inaccuracy in this material or any loss or damage suffered by any person as a consequence of relying upon it. Monochrome advises that the views expressed in this material are not necessarily those of Monochrome or of any organisation Monochrome is associated with. Monochrome does not purport to provide legal or other expert advice in this material and if any such advice is required, you should obtain the services of a suitably qualified professional.
---
Jamie Grohman
Marketing & Content Manager
Monochrome Asset Management