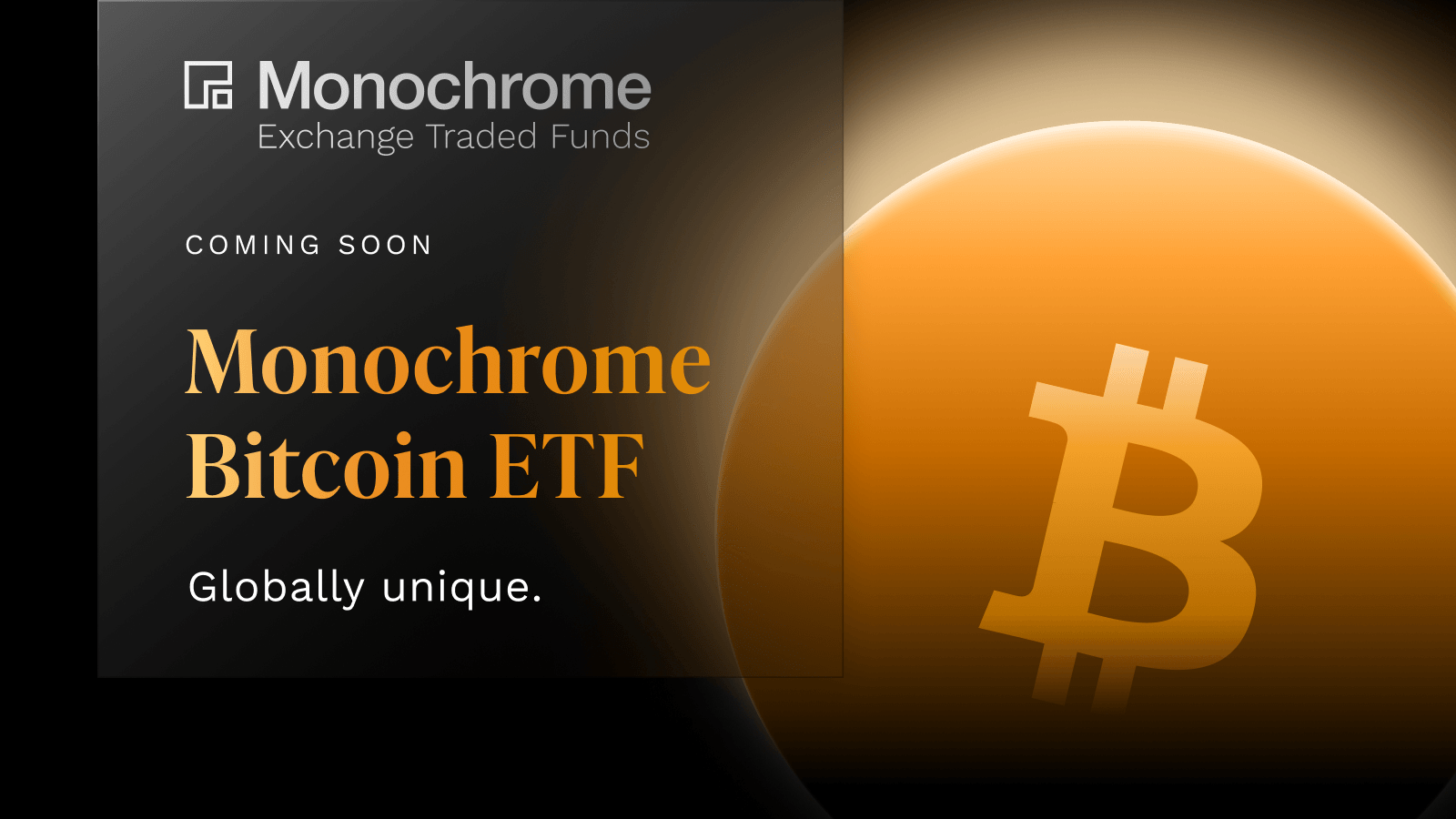 BRISBANE, August 15, 2022 – Monochrome Asset Management became one of the first Australian asset managers to be authorised under an Australian financial services licence (AFSL) to offer retail investors fully regulated and direct insured exposure to crypto-assets, such as bitcoin and ether.
Monochrome Asset Management is pleased to announce that its Responsible Entity partner, Vasco Trustees Ltd, has received Australian Securities & Investments Commission (ASIC) approval to operate spot-based crypto-asset exchange traded funds (ETFs) headlined by the Monochrome Bitcoin ETF (ticker code: IBTC).
To date, no crypto asset ETFs operate under an AFSL with a crypto-asset authorisation. ASIC's decision to provide this AFSL authorisation opens new regulated investment opportunities for direct retail investors and through licensed financial advisers.
Monochrome CEO Jeff Yew said, "The regulator's approval of this licence variation represents a major step forward for both the advice industry and retail investors, allowing advisers to meet the market demands of their clients when it comes to the nascent crypto-asset class."
"Providing these regulated and more secure rails means investors have a much higher degree of regulation when seeking this type of exposure, with both industry and investors emerging as winners."
Monochrome Asset Management Pty Ltd ABN 80 647 701 246 (Monochrome) is a Corporate Authorised Representative (CAR No. 1286428) of Vasco Trustees Ltd ABN 71 138 715 009 | AFSL 344486 (Vasco Trustees). Monochrome is the Investment Manager for the Monochrome Bitcoin Trust (IBTC) (ARSN 661 385 244). Vasco Trustees is the Responsible Entity and the issuer of interests in IBTC. Interests in IBTC will be made available once the PDS and TMD have issued. The PDS and TMD will be made available at https://monochrome.co/ and should be considered prior to investing. The PDS and TMD are expected to be available in October 2022, subject to regulatory approvals. This information is general in nature and does not take into account any person's individual objectives, financial situation or needs. In deciding whether to acquire an interest in IBTC and before investing, investors should read the PDS,TMD and Reference Guide, and with the assistance of a financial adviser, consider if the investment is appropriate for their circumstances. Past performance is not indicative of future performance.
---
Jamie Grohman
Marketing & Content Manager
Monochrome Asset Management