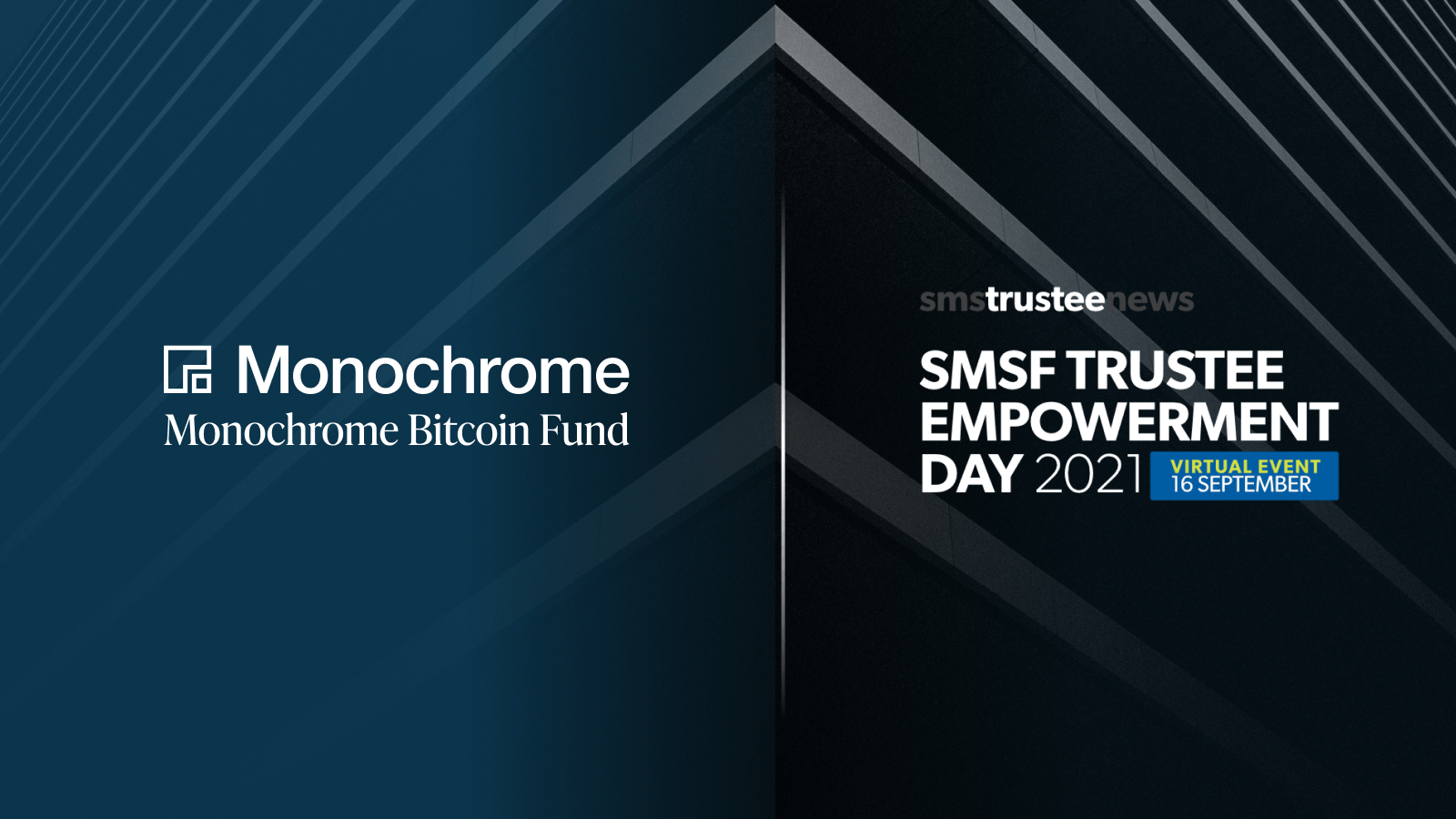 Brisbane, September 8, 2021 -- Craig Hobart of Monochrome Asset Management, joins Darin Tyson-Chan at SMSF Trustee Empowerment Day 2021 to discuss investment exposure to a nascent asset, bitcoin, via a safe, regulated and familiar investment vehicle.
"With so much interest in digital assets, we at Monochrome want to provide investors and advisers with information to highlight the risks and contribution bitcoin brings to a diversified portfolio," said Craig Hobart, Head of Distribution at Monochrome.
"A real conversation has now begun on how to engage with these assets in a safe, regulated and familiar way," continued Mr Hobart.
Joining Mr Hobart to moderate discussion will be Darin Tyson-Chan, publisher and founder of Benchmark Media.
CEO and founder of Monochrome, Jeff Yew commented "Virtual events such as these are increasingly important for investors."
Monochrome is proud to be a part of SMSF Trustee Empowerment Day 2021 as both a sponsor and speaking presence. Australia's self-managed super fund community represents approximately $789B of total superannuation assets and in excess of 1.1 million investors (APRA March Q 2021).
This publication has been prepared by Monochrome Asset Management Pty Ltd ABN 80 647 701 246 (Monochrome) the Investment Manager of the Monochrome Bitcoin Fund (the Fund). Monochrome is a Corporate Authorised Representative No. 1286428 of Non Correlated Capital Pty Ltd ABN 99 143 882 562 AFSL 499882 (NCC). NCC is the Trustee of the Fund. This publication has been prepared by Monochrome to provide you with general information only. In preparing this publication, we did not take into account the investment objectives, financial situation or particular needs of any particular person. It is not intended to take the place of professional advice and you should not take action on specific issues in reliance on this information. Neither Monochrome, NCC nor any of their related parties, their employees or directors, provide any warranty of accuracy or reliability in relation to such information or accept any liability to any person who relies on it. You should obtain professional advice and consider the Information Memorandum before making a decision in relation to this product. Any forecasts and hypothetical examples are subject to uncertainty and are not guaranteed. Past performance is not a reliable indicator of future performance. You can obtain a copy of the Information Memorandum for the Fund by contacting Monochrome at https://monochrome.co.
---
Jamie Grohman
Marketing & Content Manager
Monochrome Asset Management