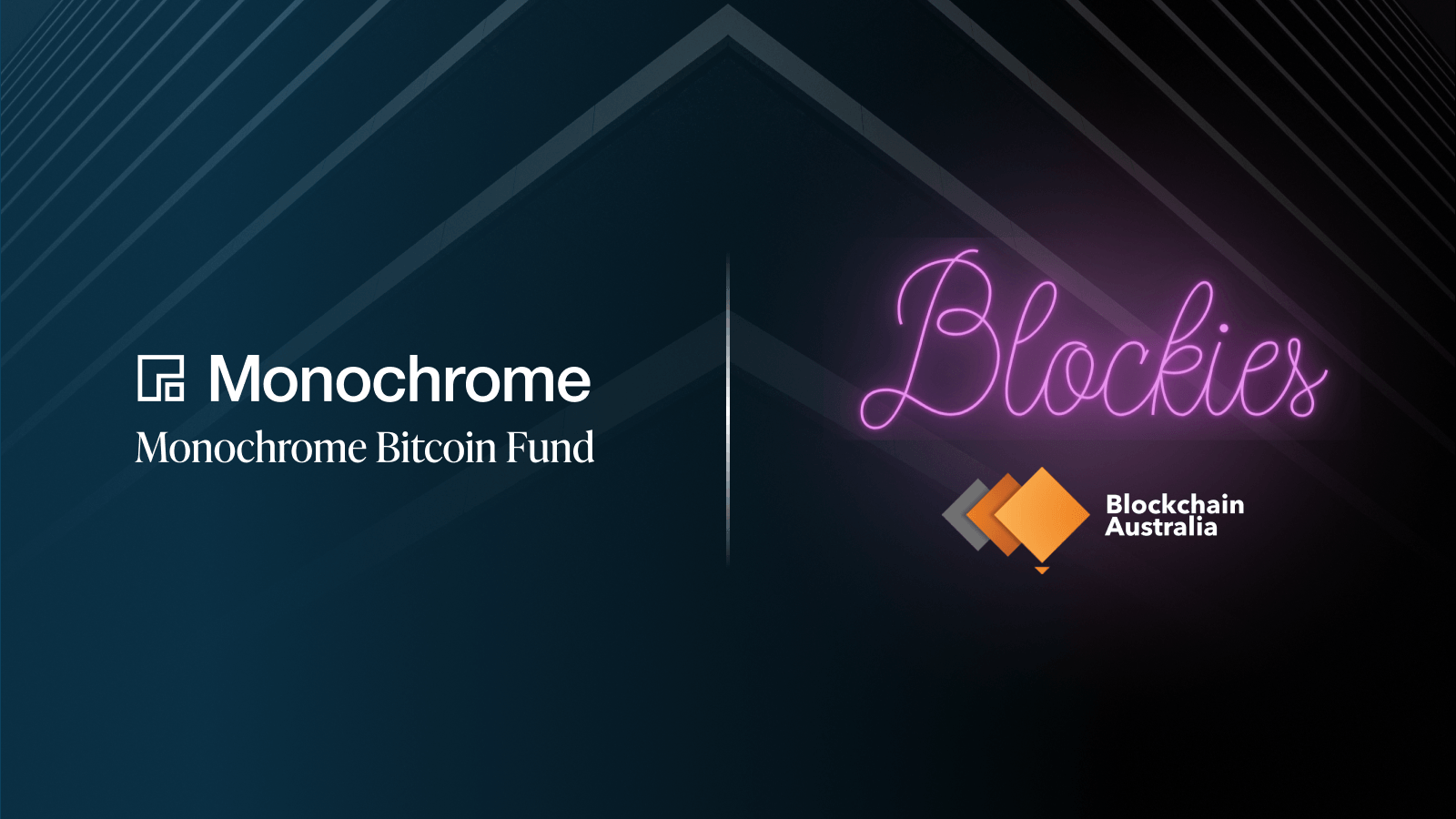 Brisbane, August 20, 2021 -- Monochrome Asset Management was proud to announce itself as the headline sponsor of the 2021 Blockchain Australia Blockies Awards.
"The Australian blockchain ecosystem has grown leaps and bounds during this last year as the result of some exceptional work." said Jeff Yew, Chief Executive Officer and Director at Monochrome.
"Events such as The Blockies let us shine a light on those that are sustainably driving the industry and community forward with actions, innovations and hard work," said Jeff Yew "To be able to support this means a lot for Monochrome."
Headline sponsorship of The Blockies 2021 serves as a landmark moment for Monochrome following their launch in May of this year. Monochrome is proud to be a member of Blockchain Australia and Australia's flourishing digital asset community at large.
Steve Vallas, CEO of Blockchain Australia says "Institutional acceptance of digital assets and blockchain technology has been on the rise, Blockchain Australia is excited to have support from Monochrome who are paving the way for institutional adoption of Bitcoin in Australia."
This publication has been prepared by Monochrome Asset Management Pty Ltd ABN 80 647 701 246 (Monochrome) the Investment Manager of the Monochrome Bitcoin Fund (the Fund). Monochrome is a Corporate Authorised Representative No. 1286428 of Non Correlated Capital Pty Ltd ABN 99 143 882 562 AFSL 499882 (NCC). NCC is the Trustee of the Fund. This publication has been prepared by Monochrome to provide you with general information only. In preparing this publication, we did not take into account the investment objectives, financial situation or particular needs of any particular person. It is not intended to take the place of professional advice and you should not take action on specific issues in reliance on this information. Neither Monochrome, NCC nor any of their related parties, their employees or directors, provide any warranty of accuracy or reliability in relation to such information or accept any liability to any person who relies on it. You should obtain professional advice and consider the Information Memorandum before making a decision in relation to this product. Any forecasts and hypothetical examples are subject to uncertainty and are not guaranteed. Past performance is not a reliable indicator of future performance. You can obtain a copy of the Information Memorandum for the Fund by contacting Monochrome at https://monochrome.co.
---
Jamie Grohman
Marketing & Content Manager
Monochrome Asset Management