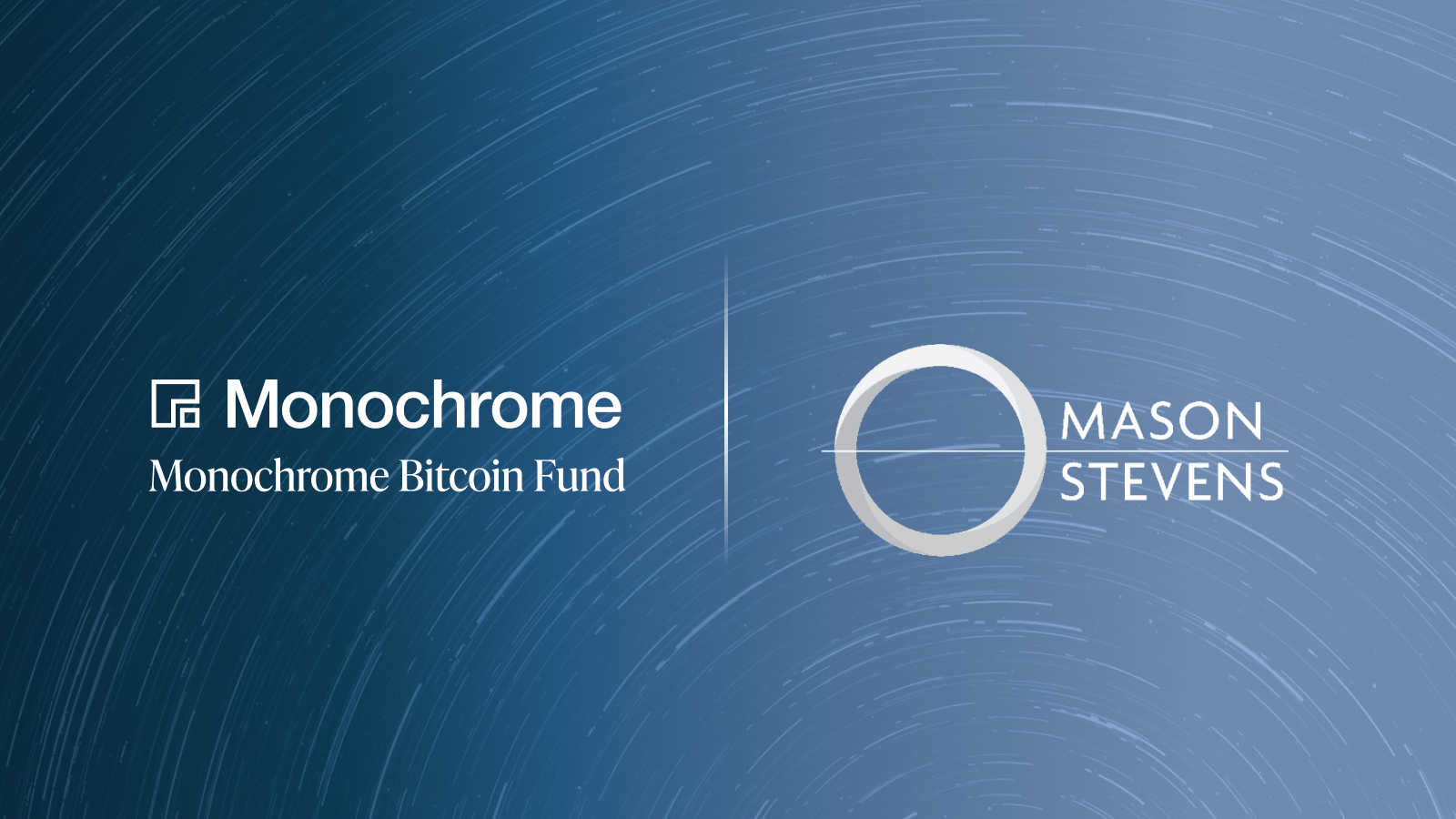 BRISBANE, February 3, 2022 – Wealth management platform Mason Stevens adds the Monochrome Bitcoin Fund, providing a regulated vehicle for bitcoin exposure to Australian wholesale investors on the platform.
Monochrome is pleased to announce the Monochrome Bitcoin Fund (MBF) is now available to wholesale investors via Mason Stevens.
Mason Stevens is a bespoke wealth management platform for wholesale investors. The platform provides a curated, market-driven financial product selection with an emphasis on innovation and technology.
"Mason Stevens has recognised the market demand for access to the nascent crypto asset class," said Jeff Yew, CEO of Monochrome. "The addition of the MBF to their platform offering underlines their thorough understanding of market direction and demand, as well as the type of product desired."
The MBF is a capital growth fund for wholesale investors seeking a familiar investment vehicle that closely tracks the price of bitcoin, issued via an Information Memorandum.
Nick Mitchell, Managing Director at Mason Stevens said, "The addition of the Monochrome Bitcoin Fund to the Mason Stevens platform meets growing client demand for an institutional-grade means of exposure to bitcoin and the crypto asset class."
With access via a familiar investment vehicle, Mason Stevens clients are now able to easily incorporate bitcoin exposure into diversified portfolios.
The Monochrome Bitcoin Fund is available now on Mason Stevens.
About Mason Stevens
Mason Stevens is an Australian investment management and global administration service provider, giving financial adviser group investors and wholesale investors global investment opportunities in both public and private markets. The firm covers a wide range of asset classes ranging from Cash, Credit, FX, Listed Equities and Private Equity, on a global basis.
Established in 2010, the privately owned firm has circa A$6 billion of direct global investments under management or administration. The privately owned company is led by some of Australia's most experienced finance and investment professionals, and now has over 70 staff nationally with offices in Sydney and Melbourne.
This publication has been prepared by Monochrome Asset Management Pty Ltd ABN 80 647 701 246 (Monochrome) the Investment Manager of the Monochrome Bitcoin Fund (the Fund). Monochrome is a Corporate Authorised Representative No. 1286428 of Non Correlated Capital Pty Ltd ABN 99 143 882 562 AFSL 499882 (NCC). NCC is the Trustee of the Fund. This publication has been prepared by Monochrome to provide you with general information only. In preparing this publication, we did not take into account the investment objectives, financial situation or particular needs of any particular person. It is not intended to take the place of professional advice and you should not take action on specific issues in reliance on this information. Neither Monochrome, NCC nor any of their related parties, their employees or directors, provide any warranty of accuracy or reliability in relation to such information or accept any liability to any person who relies on it. You should obtain professional advice and consider the Information Memorandum before making a decision in relation to this product. Any forecasts and hypothetical examples are subject to uncertainty and are not guaranteed. Past performance is not a reliable indicator of future performance. You can obtain a copy of the Information Memorandum for the Fund by contacting Monochrome at https://monochrome.co.
---
Jamie Grohman
Marketing & Content Manager
Monochrome Asset Management