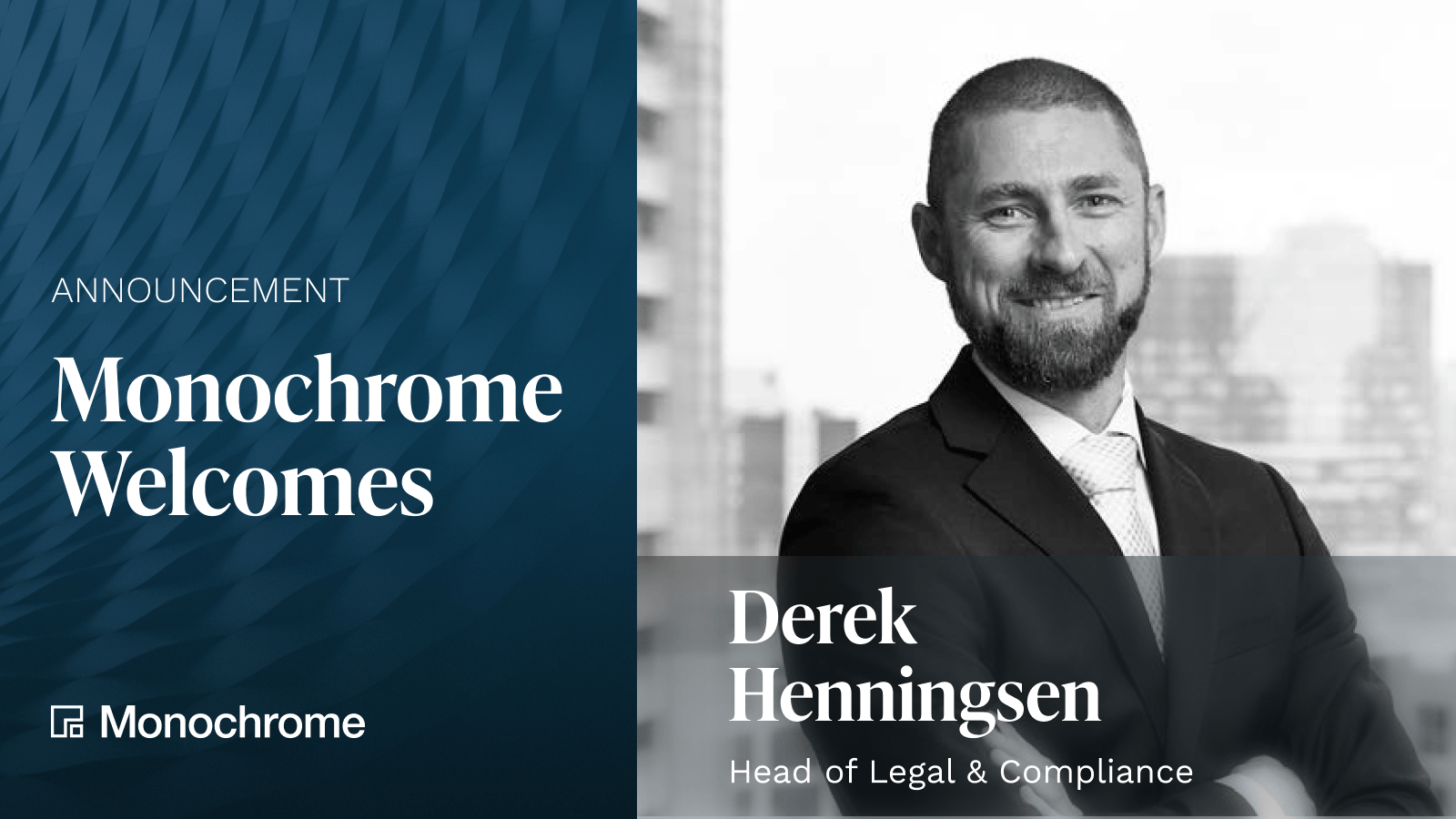 BRISBANE, August 3, 2021 -- Monochrome Asset Management is proud to announce today the appointment of another industry expert, Derek Vladimir Henningsen, joining as Head of Legal & Compliance.
Mr Henningsen comes with over 20 years of experience across financial services, funds management and digital assets, specialising in legal, risk and compliance. Derek's experience spans large and boutique asset managers, Financial Ombudsman Service, establishing the digital asset exchange Huobi Australia, and most recently as the Head of Fund & Mandate Compliance at IFM Investors.
"Derek will add valuable insights and leadership with his legal and compliance expertise in finance, funds management, and the digital asset industry." Mr Yew said.
With this recent addition, the Monochrome team now has over 100 years of combined experience in traditional financial markets, funds management, and digital asset investments.
As bitcoin grows into a globally recognised store of value asset, the appetite for bitcoin as a strategic allocation on institutional balance sheets continues to strengthen. The Monochrome Bitcoin Fund offers Australian wholesale investors pure bitcoin exposure via a regulated and familiar investment vehicle without the requirement to engage with new technologies, with a minimum investment of AU$50,000.
"The Monochrome Bitcoin Fund has been a fantastic product to get us off the ground and we see it continue to be our core offering, however there is much more we are looking to pursue, including Australia's first Bitcoin ETF. Derek, alongside Craig who were appointed earlier in the week as Head of Distribution and other senior management and team members will be pivotal in us achieving this at Monochrome." Mr Yew added.
"Monochrome CEO Jeff Yew is a proven leader in the crypto and digital assets space and I feel both thrilled and privileged to help drive the adoption of digital assets with such a stellar team." Mr Henningsen said.
This publication has been prepared by Monochrome Asset Management Pty Ltd ABN 80 647 701 246 (Monochrome) the Investment Manager of the Monochrome Bitcoin Fund (the Fund). Monochrome is a Corporate Authorised Representative No. 1286428 of Non Correlated Capital Pty Ltd ABN 99 143 882 562 AFSL 499882 (NCC). NCC is the Trustee of the Fund. This publication has been prepared by Monochrome to provide you with general information only. In preparing this publication, we did not take into account the investment objectives, financial situation or particular needs of any particular person. It is not intended to take the place of professional advice and you should not take action on specific issues in reliance on this information. Neither Monochrome, NCC nor any of their related parties, their employees or directors, provide any warranty of accuracy or reliability in relation to such information or accept any liability to any person who relies on it. You should obtain professional advice and consider the Information Memorandum before making a decision in relation to this product. Any forecasts and hypothetical examples are subject to uncertainty and are not guaranteed. Past performance is not a reliable indicator of future performance. You can obtain a copy of the Information Memorandum for the Fund by contacting Monochrome at https://monochrome.co.
---
Hannah Tan
Design & Communication
Monochrome Asset Management