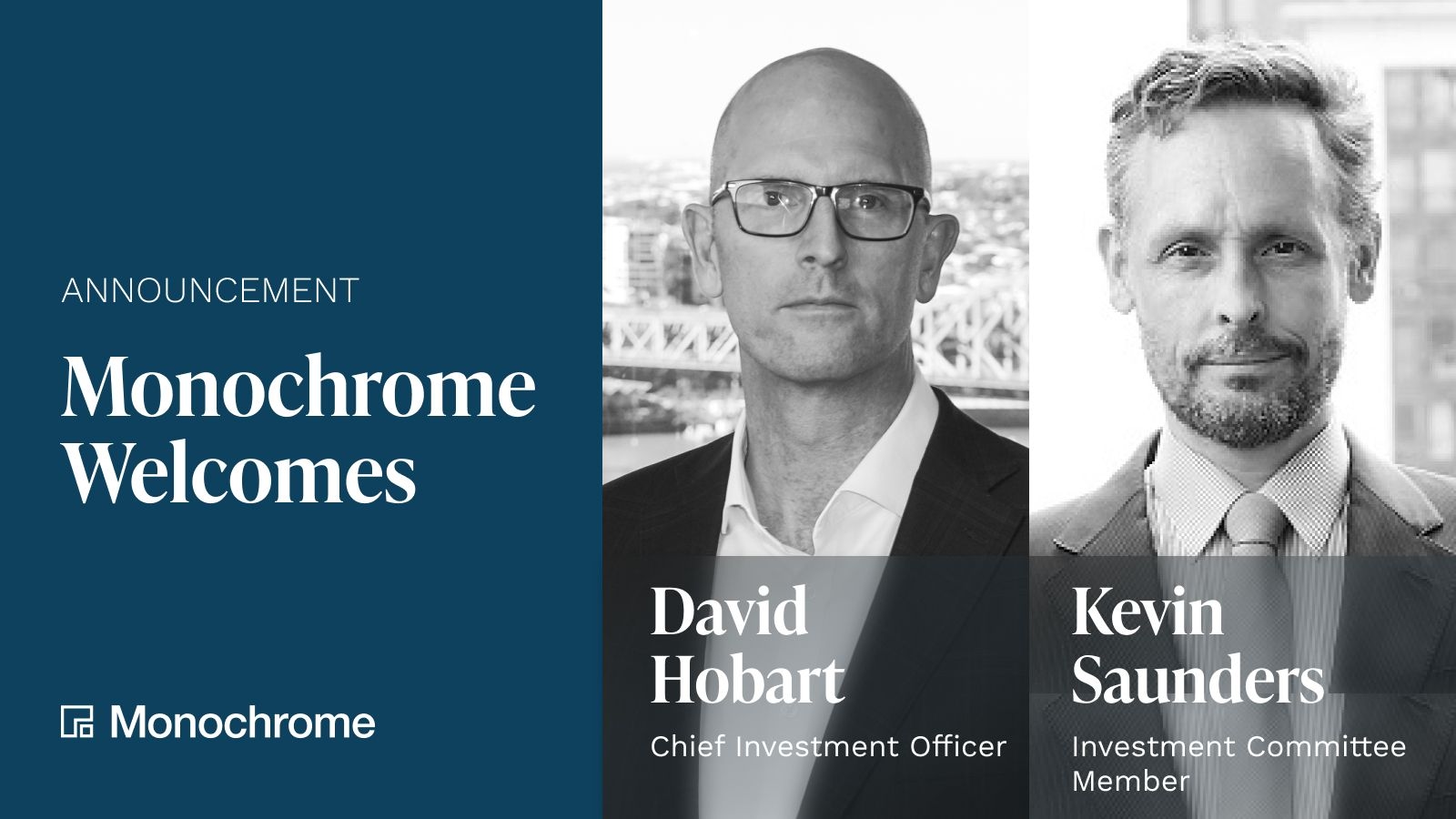 BRISBANE, July 14, 2021 -- Monochrome Asset Management, the Brisbane-based investment manager of the Monochrome Bitcoin Fund, announced the appointment of two well-known names in the Australian alternative investment industry today - David Hobart and Kevin Saunders.
David Hobart, a former bank trader and hedge fund manager with over 25 years of experience, joins Kevin Saunders of Non Correlated Capital, in boosting Monochrome Bitcoin Fund's level of traditional finance expertise. Monochrome CEO, Jeff Yew says the new appointments achieve a synergy with Monochrome's goal of bridging the traditional and new age financial realms.
David Hobart has been appointed as the Chief Investment Officer of Monochrome, and will assume a seat on the firm's Investment Committee alongside Jeff Yew and Kevin Saunders.
"Kevin and David are highly experienced in traditional asset markets and have the ability to provide additional leadership as Monochrome continues to offer institutions the ability to gain exposure to digital assets like Bitcoin". Mr Yew said.
"Monochrome and their Bitcoin Fund are quickly becoming an important torchbearer at the forefront of change within the Australian financial industry. I'm thrilled to have joined the team on the journey to facilitating the institutional adoption of digital assets." Mr Hobart said.
The new appointments also coincided with a mix of four local and international investors, including Charlie Lee the creator of Litecoin, Samson Mow the CSO of Blockstream, and Kain Warwick the founder of Blueshyft and Synthetix securing a minority stake in Monochrome, valuing the company at $15 million USD, further demonstrating the growing interest of institutional investment in digital assets.
Since March of 2020, there has been a spike in retail interest in digital assets supported by a rising trend of North American tech giants such as Tesla, Square, and Microstrategy adopting bitcoin as part of their digital asset treasury strategies. Mr Hobart said the involvement of key industry figures reinforces the shift in the market for growing institutional acceptance towards digital assets here in Australia.
"Bitcoin held in corporate treasuries over the circulating supply has reached an all-time high at 8.8%, despite the recent market cooldown. Although that list is currently dominated by North American companies, we're seeing more Australian companies following suit with their overseas counterparts in considering a bitcoin treasury strategy or as a portfolio insurance," Mr Yew said.
"And, Monochrome is here to facilitate that, starting with the Monochrome Bitcoin Fund."
This publication has been prepared by Monochrome Asset Management Pty Ltd ABN 80 647 701 246 (Monochrome) the Investment Manager of the Monochrome Bitcoin Fund (the Fund). Monochrome is a Corporate Authorised Representative No. 1286428 of Non Correlated Capital Pty Ltd ABN 99 143 882 562 AFSL 499882 (NCC). NCC is the Trustee of the Fund. This publication has been prepared by Monochrome to provide you with general information only. In preparing this publication, we did not take into account the investment objectives, financial situation or particular needs of any particular person. It is not intended to take the place of professional advice and you should not take action on specific issues in reliance on this information. Neither Monochrome, NCC nor any of their related parties, their employees or directors, provide any warranty of accuracy or reliability in relation to such information or accept any liability to any person who relies on it. You should obtain professional advice and consider the Information Memorandum before making a decision in relation to this product. Any forecasts and hypothetical examples are subject to uncertainty and are not guaranteed. Past performance is not a reliable indicator of future performance. You can obtain a copy of the Information Memorandum for the Fund by contacting Monochrome at https://monochrome.co.
---
Hannah Tan
Design & Communication
Monochrome Asset Management