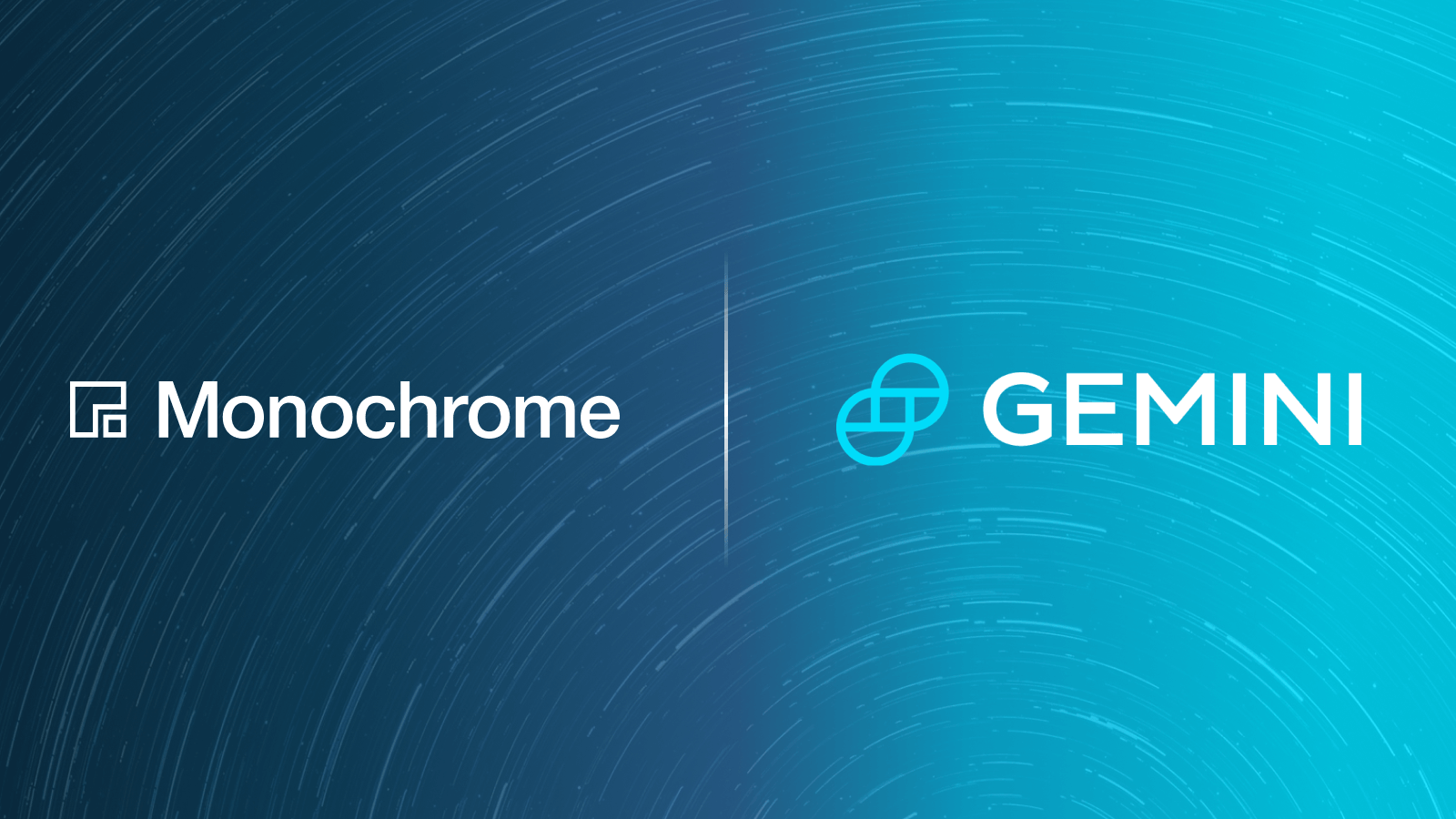 BRISBANE, October 5, 2022 – Monochrome Asset Management today announced that Gemini Trust Company, LLC has been appointed as the crypto-asset custodian for Monochrome's upcoming crypto-asset managed funds.
Monochrome will soon provide the Australian market with regulated and accessible bitcoin exposure for retail and professional investors. Gemini Trust Company, LLC will provide Monochrome with specialist bitcoin custody for its upcoming Australian market offering.
"Gemini is excited to be providing Monochrome with Gemini's industry-leading custodial services. At Gemini, we prioritise institutional-grade security and a proactive approach to regulation that makes us an ideal partner for fund managers globally," said Brian Keogh, Head of Gemini Fund Solutions.
Gemini Trust Company, LLC is a New York trust company and qualified custodian chartered by the New York State Department of Financial Services with both SOC 1 Type 2 and SOC 2 Type 2 compliance audits. These compliance measures provide comprehensive oversight of financial (SOC 1) and information (SOC 2) controls, with audits performed over an extended period of time.
Gemini meets requirements outlined in RG 133 issued by the Australian Securities and Investments Commission for being a suitable custody provider for Australian crypto-asset retail product issuers. Gemini employs institutional-grade security designed for compliance and transparency to protect investor funds.
"Monochrome is committed to equipping the market with regulated and expertly managed products required for mature investment in this emerging asset class," added Jeff Yew, Chief Executive Officer at Monochrome. Monochrome's crypto-asset retail offerings will be available to retail and professional investors, and will draw on Monochrome's crypto-asset management experience and research expertise, with Chief Executive Officer Jeff Yew previously the CEO of Australia's largest digital currency exchange by trading volume, Binance Australia.
About Gemini
Gemini is a platform that allows customers to buy, sell, store, and earn cryptocurrencies like bitcoin, ether, and DeFi tokens. Gemini's simple, reliable, and secure products are built to unlock the next era of financial, creative & personal freedom. Gemini was founded in 2014 by twin brothers Cameron and Tyler Winklevoss.
About Monochrome
Monochrome Asset Management is an Investment Manager specialising in regulated access to crypto-assets via traditional pathways without the administrative burden. Monochrome's team has industry-leading experience in traditional financial markets, funds management and crypto-asset investments.
Monochrome Asset Management Pty Ltd ABN 80 647 701 246 (Monochrome) is a Corporate Authorised Representative (CAR No. 1286428) of Vasco Trustees Ltd ABN 71 138 715 009 | AFSL 344486 (Vasco Trustees). Monochrome is the Investment Manager for the Monochrome Bitcoin Trust (IBTC) (ARSN 661 385 244). Vasco Trustees is the Responsible Entity and the issuer of interests in IBTC. Interests in IBTC will be made available once the PDS and TMD have issued. The PDS and TMD will be made available at https://monochrome.co/ and should be considered prior to investing. The PDS and TMD are expected to be available in October 2022, subject to regulatory approvals. This information is general in nature and does not take into account any person's individual objectives, financial situation or needs. In deciding whether to acquire an interest in IBTC and before investing, investors should read the PDS,TMD and Reference Guide, and with the assistance of a financial adviser, consider if the investment is appropriate for their circumstances. Past performance is not indicative of future performance.
---
Monochrome Asset Management