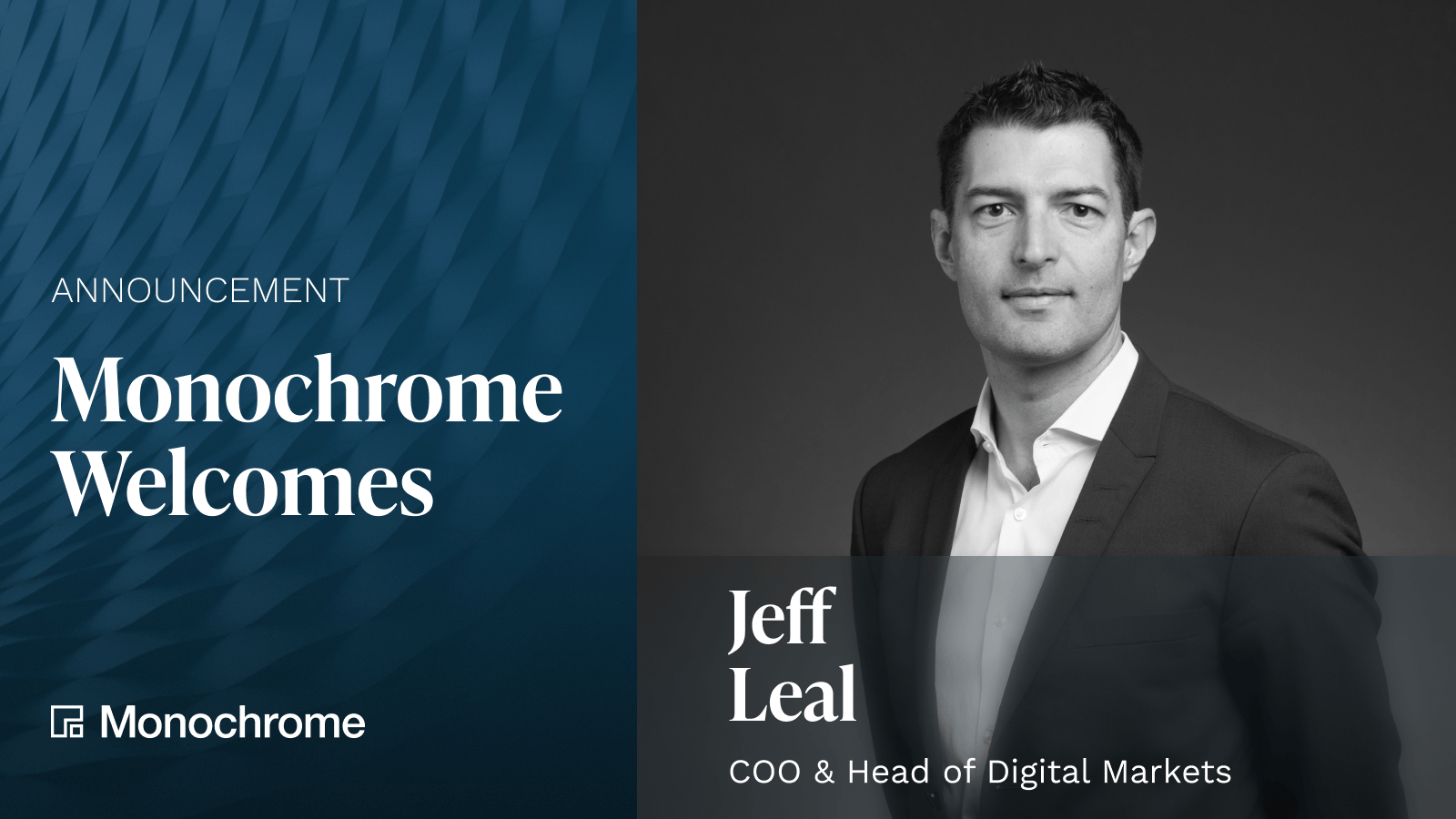 BRISBANE, Thursday September 23 2021 -- Monochrome Asset Management, the torchbearer for investment-grade access to digital assets in Australia, today announced the appointment of BNY Mellon executive and foreign exchange veteran Jeff Leal as Chief Operating Officer and Head of Digital Markets.
Monochrome Asset Management is welcoming another industry veteran, Jeff Leal, as Chief Operating Officer & Head of Digital Markets cementing the company's position as an innovative and unique performer in the institutional digital assets sector.
Jeff Leal has been a pillar of the foreign exchange industry for more than a decade. Most recently, he has worked as the Global Head of Spot and eFX at the world's largest custodian bank and asset servicing provider, BNY Mellon – a role he took up in January 2017.
Prior to that, Mr Leal was UniCredit's Global Head of Electronic Markets, joining the commercial bank in 2015.
Mr Leal also spent six years at Nomura, as a Quantitative Analyst in the e-trading research field, before being promoted to Head of eFX Trading in 2010. Just three years later, he was appointed Nomura's Managing Director and Global Head of eFX Trading.
Welcoming Mr Leal to the team, Monochrome Asset Management CEO Jeff Yew said the appointment will play a pivotal role in Monochrome's presence in the sector.
"Mr Leal will add valuable insights and leadership with his expertise in foreign exchange and the digital assets industry," Mr Yew said.
"He not only brings with him more than 10 years of experience in the eFX space, but a cutting-edge approach and level of strategic thinking which is exceptionally valuable to Monochrome," he added." continued Mr Yew.
Mr Leal said he could not wait to take up the role at Monochrome – a move which will see him return home to Australia after a stellar 18-year career in the UK.
"I am excited to be joining the leadership team at Monochrome Asset Management as Chief Operating Officer and Head of Digital Markets. Monochrome has demonstrated success launching Australia's latest wholesale Bitcoin fund, with simplicity in mind and by removing the operational burden for investors," Mr Leal said.
"In my role, I will be helping to further enhance and strengthen Monochrome's operating environment to support the plans of expansion across products, platforms and for the eventual launch of digital asset ETFs in Australia. My background in institutional execution will also play a role in educating market participants navigating the digital asset liquidity landscape and market microstructure," continued Mr Leal.
"Digital assets have come a long way in recent years and with more traditional institutions joining the ecosystems we are just at the beginning of a maturing marketplace that provides unimpeded investment opportunities to a wider investor base. I look forward to helping Monochrome become a leading digital asset manager which collaborates with regulators and educates advisers and investors," said Mr Leal.
"With the wider adoption of digital assets and solutions across the spectrum of investors and market participants, the time is right to make this move and join this innovative company, where we can focus on helping the traditional investment community to understand the incredible opportunities and avoid the complexities which exist in the digital assets sphere," Mr Leal added.
Mr Leal's role is the latest in a slew of senior appointments for Monochrome during FY22.
The company secured Craig Hobart, former Managing Director at Nikko Asset Management (Tyndall AM) as Monochrome's Head of Distribution in June. In August the same year, Derek Henningsen joined the firm as Head of Legal and Compliance, coming from IFM Investors.
This publication has been prepared by Monochrome Asset Management Pty Ltd ABN 80 647 701 246 (Monochrome) the Investment Manager of the Monochrome Bitcoin Fund (the Fund). Monochrome is a Corporate Authorised Representative No. 1286428 of Non Correlated Capital Pty Ltd ABN 99 143 882 562 AFSL 499882 (NCC). NCC is the Trustee of the Fund. This publication has been prepared by Monochrome to provide you with general information only. In preparing this publication, we did not take into account the investment objectives, financial situation or particular needs of any particular person. It is not intended to take the place of professional advice and you should not take action on specific issues in reliance on this information. Neither Monochrome, NCC nor any of their related parties, their employees or directors, provide any warranty of accuracy or reliability in relation to such information or accept any liability to any person who relies on it. You should obtain professional advice and consider the Information Memorandum before making a decision in relation to this product. Any forecasts and hypothetical examples are subject to uncertainty and are not guaranteed. Past performance is not a reliable indicator of future performance. You can obtain a copy of the Information Memorandum for the Fund by contacting Monochrome at https://monochrome.co.
---
Jamie Grohman
Marketing & Content Manager
Monochrome Asset Management