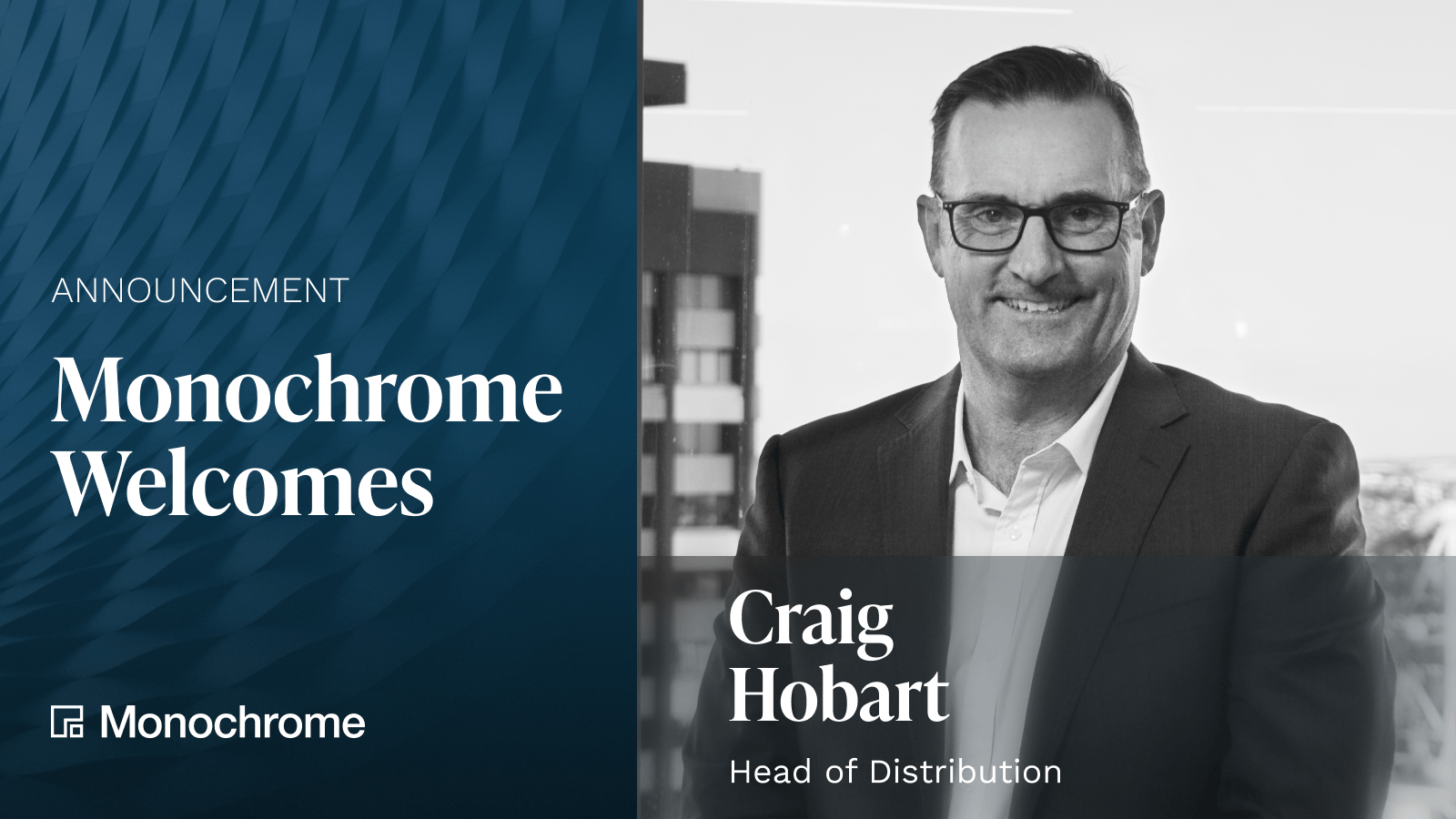 BRISBANE, July 26, 2021 -- Following the launch of the Monochrome Bitcoin Fund, Monochrome Asset Management, the Brisbane-based digital asset management firm founded by former Binance Australia CEO Jeff Yew, today announced the appointment of Craig Hobart, joining the team as Head of Distribution.
Mr Hobart holds over 25 years of leadership experience across financial services, funds management, and superannuation including BT, Nikko Asset Management, and Rest Super. Craig joins Monochrome with a wealth of knowledge and experience to help create distribution and growth strategies for its products, such as the Monochrome Bitcoin Fund.
"With his extensive experience in funds management, Craig will oversee the company's distribution strategies." Mr Yew said.
Monochrome Asset Management is the Investment Manager of the Monochrome Bitcoin Fund, a capital growth investment fund for Australian wholesale investors seeking a secure, regulated, and familiar investment vehicle that tracks the price of bitcoin without the need to engage with new technologies.
With digital assets increasingly becoming an accepted part of the financial landscape, institutions are realising that they must adopt this asset-class, either as an investment or as a hedge against the broader macroeconomic environment. Despite this increase in adoption, still predominantly by US companies at present, various challenges remain for Australian institutional investors around regulatory clarity, strict acquisition procedures, and custody which Monochrome Asset Management addresses and resolves with the launch of the Monochrome Bitcoin Fund.
"With years of experience in driving growth strategies in traditional financial organisations, I am excited to join Jeff and his team to facilitate the growing institutional adoption of Bitcoin, starting with the Monochrome Bitcoin Fund." Mr Hobart said.
This publication has been prepared by Monochrome Asset Management Pty Ltd ABN 80 647 701 246 (Monochrome) the Investment Manager of the Monochrome Bitcoin Fund (the Fund). Monochrome is a Corporate Authorised Representative No. 1286428 of Non Correlated Capital Pty Ltd ABN 99 143 882 562 AFSL 499882 (NCC). NCC is the Trustee of the Fund. This publication has been prepared by Monochrome to provide you with general information only. In preparing this publication, we did not take into account the investment objectives, financial situation or particular needs of any particular person. It is not intended to take the place of professional advice and you should not take action on specific issues in reliance on this information. Neither Monochrome, NCC nor any of their related parties, their employees or directors, provide any warranty of accuracy or reliability in relation to such information or accept any liability to any person who relies on it. You should obtain professional advice and consider the Information Memorandum before making a decision in relation to this product. Any forecasts and hypothetical examples are subject to uncertainty and are not guaranteed. Past performance is not a reliable indicator of future performance. You can obtain a copy of the Information Memorandum for the Fund by contacting Monochrome at https://monochrome.co.
---
Hannah Tan
Design & Communication
Monochrome Asset Management