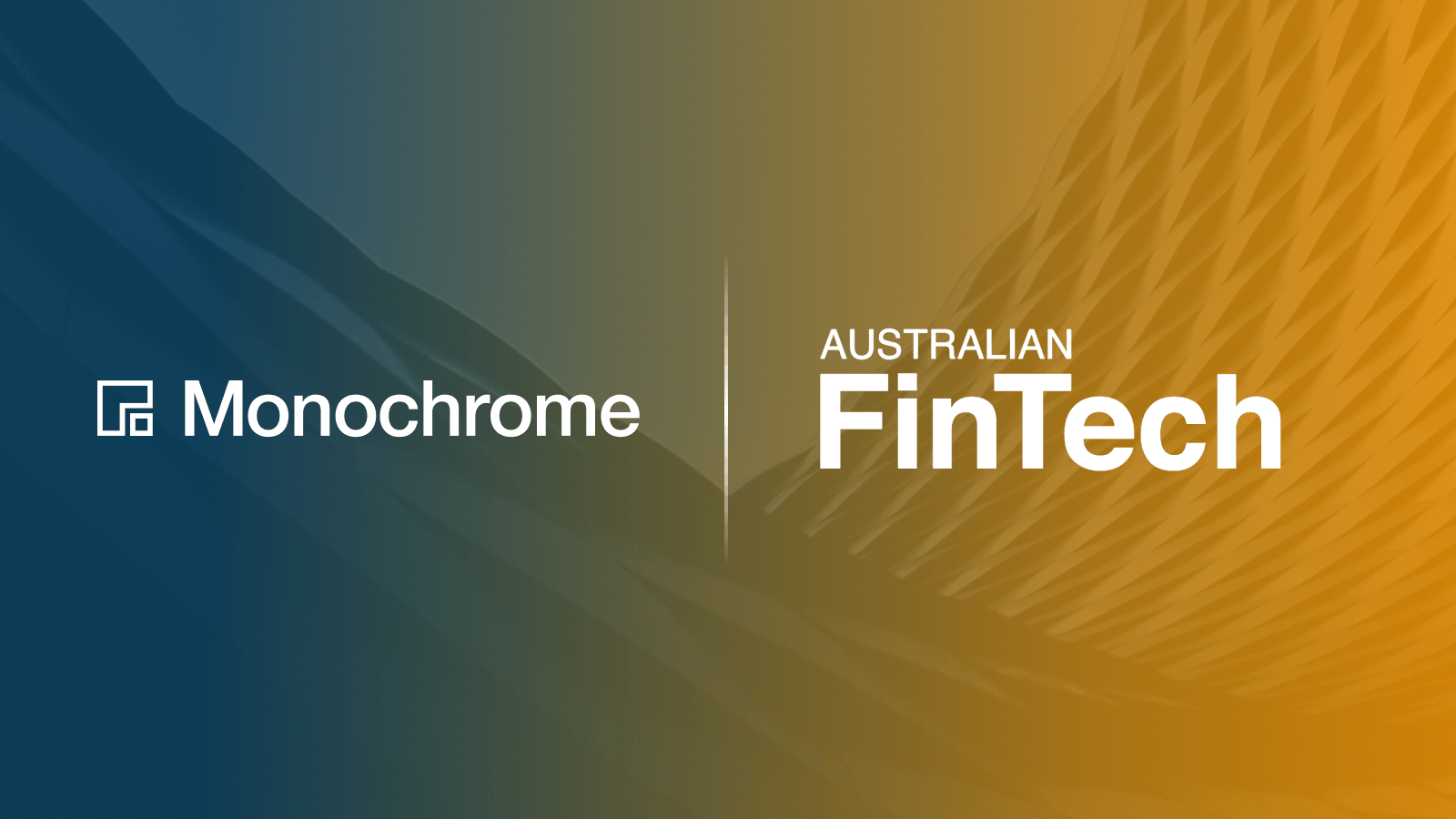 BRISBANE, July 12, 2021 -- Monochrome Asset Management is thrilled to join 800 other Fintech companies as a member of Australian FinTech - the leading platform in Australia dedicated to promoting Australian FinTech companies and industry developments.
In the past 18 months, institutional attention and acceptance towards digital assets has grown considerably. This monumental shift has been demonstrated by the increasing number of tech giants such as Tesla, Square, and Microstrategy adopting bitcoin as part of their corporate treasury. Traditional financial houses including Morgan Stanley, BNY Mellon, and State Street are beginning to offer digital asset trading, administration, and custody services to their clients.
"As the fintech industry continues to grow in Australia - and in particular the interest and investments in digital assets, it's great to have a company like Monochrome Asset Management catering for the demand from wholesale investors," said Cameron Dart, Co-Founder & CEO of Australian FinTech.
Monochrome Asset Management is the investment manager of the Monochrome Bitcoin Fund - a capital growth fund that tracks the price of bitcoin available exclusively to Australian wholesale investors with a minimum of AU$50,000. Monochrome's management team has over 100 years of combined experience in traditional financial markets, funds management, and digital asset investments.
"Unlike retail investors, there are specific challenges which institutional investors have to overcome when implementing a digital asset treasury or investment strategy; mainly revolving around regulatory clarity, strict acquisition procedures, and custody challenges, which we help address and solve with the launch of the Monochrome Bitcoin Fund." said Jeff Yew, the founder and CEO of Monochrome Asset Management.
"With the launch of our ASIC-regulated wholesale managed fund, Monochrome has become the torchbearer of institutional-grade access to digital assets like Bitcoin in Australia, by shifting the operational and custody risks to regulated and professional managers." Mr Yew continued.
Bitcoin is now recognised worldwide as an asset class, and Monochrome believes that every Australian investor should have the right to gain exposure to digital assets safely within a diversified portfolio via a conventional and familiar investment vehicle.
"Australian FinTech is a great platform to help Monochrome stay in touch with the broader Australian FinTech industry. We're excited to play our part in this significant chapter of the digital asset sector in Australia. Monochrome hopes to contribute to meaningful conversations with other industry leaders to increase institutional acceptance of Bitcoin in Australia." said Mr Yew.
This publication has been prepared by Monochrome Asset Management Pty Ltd ABN 80 647 701 246 (Monochrome) the Investment Manager of the Monochrome Bitcoin Fund (the Fund). Monochrome is a Corporate Authorised Representative No. 1286428 of Non Correlated Capital Pty Ltd ABN 99 143 882 562 AFSL 499882 (NCC). NCC is the Trustee of the Fund. This publication has been prepared by Monochrome to provide you with general information only. In preparing this publication, we did not take into account the investment objectives, financial situation or particular needs of any particular person. It is not intended to take the place of professional advice and you should not take action on specific issues in reliance on this information. Neither Monochrome, NCC nor any of their related parties, their employees or directors, provide any warranty of accuracy or reliability in relation to such information or accept any liability to any person who relies on it. You should obtain professional advice and consider the Information Memorandum before making a decision in relation to this product. Any forecasts and hypothetical examples are subject to uncertainty and are not guaranteed. Past performance is not a reliable indicator of future performance. You can obtain a copy of the Information Memorandum for the Fund by contacting Monochrome at https://monochrome.co.
---
Hannah Tan
Design & Communication
Monochrome Asset Management